Date and Time
Thu, May 11, 2023
9:00am
-
10:30am
EST
Location
Virtual Event - Zoom

Event Description:
DEI is one of the most discussed topics in the nonprofit sector. As leaders grapple with how to embed value for DEI in day-to-day operations, there is increasing focus on creating and sustaining an inclusive workplace environment. Ultimately, organizations are only as effective as employees' ability to feel valued and respected as members of a team. High trust relationships and a strong sense of belonging are at the root of creating and sustaining productive teams.
At Gwen, Inc. we observe leaders skilled at creating and sustaining inclusive teams and workplace cultures engage in these four leadership best practices.
Consistent Communication About DEI as a Strategic Team Resource
Strategic Building and Restoring of Trust On Teams and In Organizations
Effective Management of Change
Development of New Generations of Leaders
This session is ideal for those managers of diverse teams and those charged with implementing an organization's DEI strategy.
During this interactive leadership development session participants will:
Review and discuss the four leadership best practices
Discuss the joy and challenge of building and sustaining inclusive team and workplace cultures
Engage in self-reflection to identify how to apply work session learning at work

Featuring: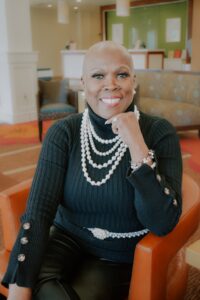 Gwendolyn (Gwen) Webber-McLeod, M.S., President/CEO of Gwen, Inc.
She has over 30 years' experience in leadership/organization development, facilitation, strategic planning, the development of effective coalitions/collaborations, helping companies develop strategies for taking diversity and inclusion initiatives to the next level (Diversity 2.0©) and the strategic development of women and minority leaders breaking
glass/cement ceilings in companies (Unexpected Leaders®).
Gwen is a frequently sought-after lecturer and conference keynote speaker on the topic of leadership. Her clients are CEOs, executive and mid-level managers, and leadership teams in public, private, health care and education businesses and organizations.
In 2009, Gwen founded You Can't Fail: Because Your History Says You Can't. A unique, one of a kind conference, designed to provide leadership development experiences for professional women of color. It was founded to pay her success forward to new generations of Black women leaders.  Gwen is a published author with contributions most recently featured in Resilience: Living Life by
Design by Dr. Deana Murphy and published in 2015. Her book, The Leadership Journey, will be published in 2023.
Virtual Event:
This is a virtual, online event. Your Zoom log-in info will be included in your confirmation email.