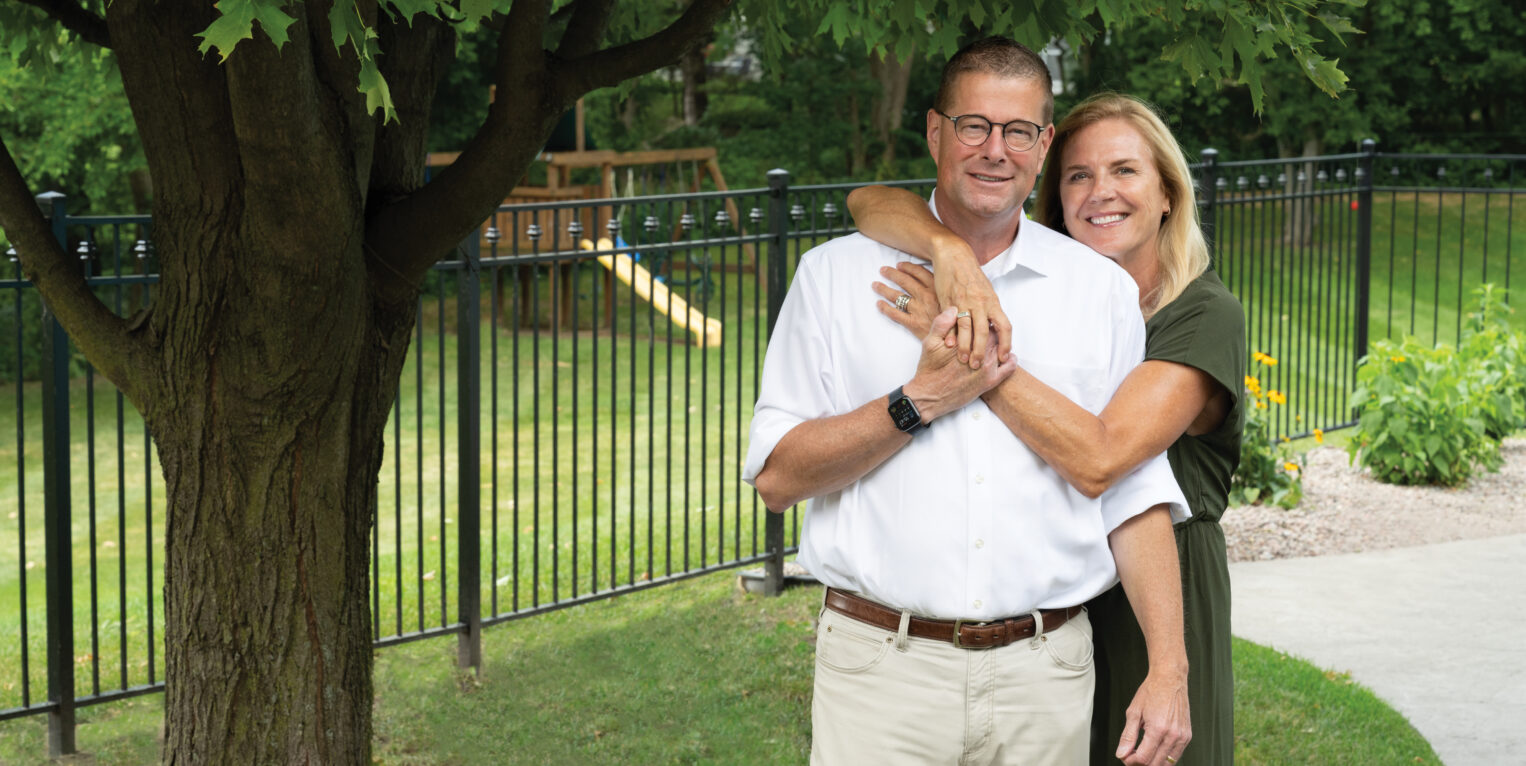 Beyond Boundaries: A Journey of Giving and Community
Pat and Gwyn Mannion
Catholic worker Dorothy Day writes in her book, The Long Loneliness, "The only answer in this life, to the loneliness we are all bound to feel, is community." For Gwyn and Pat Mannion, community is a definitive part of their lives.
Growing up, they both had parents who instilled in them the value of generosity and service. Pat's mother and father were dedicated to providing accompaniment to others, always lending a helping hand to their neighbors and working tirelessly for their church. Gwyn's parents, too, were role models of selflessness, devoting their time to church activities and extending kindness to those around them.
Pat explained, "Growing up, my parents showed me the power of lending a helping hand. I want to continue their legacy by serving our community and making a difference."
"My parents taught me that kindness should know no bounds. There is so much need in the world, and it's our duty to alleviate suffering and bring hope to those who need it most," Gwyn added.
As they embarked on their own journey together, Pat and Gwyn carried forward the lessons they had learned from their parents. They found themselves drawn to various causes and organizations, offering their support in whatever way they could. The Fayetteville Firehouse holds a special place in Pat's heart, where he has spent countless hours providing service to his Fayetteville neighbors. Gwyn, too, has a deep passion for helping people in the local community, and spends time working with organizations like the Samaritan Center and the YMCA.
Pat and Gwyn's desire to make a difference in their community extends beyond their time and efforts. Recognizing the importance of providing support in multiple ways, and having watched Patrick's father create and use his own donor-advised fund, the pair decided to establish the Gwyn K. & Patrick A. Mannion Fund at the Community Foundation to facilitate their charitable giving.
"Establishing our fund was a seamless way to ensure our giving had a lasting and meaningful impact," they said. "It's not just about writing a check; it's about investing in causes that align with our values and creating sustainable change."
Over the years, Pat and Gwyn have used their fund to support various organizations and initiatives. They provide funding to local organizations like SUNY Upstate Medical University Hospital, Crouse Hospital and the YMCA while also supporting the University of Notre Dame, where they have a long family history of personal connections and saw opportunities to make a difference.
"Our fund gives us the opportunity to be intentional with our giving," they said. "It's a privilege to direct resources where they're needed most and to be part of something bigger than ourselves."
As Pat and Gwyn reflect on their philanthropic journey, they understand that giving back goes beyond simply providing financial support. It is about fostering connections, accompanying individuals on their journeys and being a part of a larger community. They believe in the power of love and recognize that true fulfillment comes from sharing their time, resources, and compassion with others.
Looking toward the future, Pat and Gwyn hope to inspire the next generation to embrace the spirit of giving. While their children are still in the early stages of their own lives and careers, Pat and Gwyn encourage them to find their passions and ways to serve their communities. They believe that when the time is right, their children will continue the legacy of generosity and service that has been passed down through the generations.
"We want our children to understand the importance of making an impact," Pat said. "It's not just about the financial aspect, but about connecting with others and being present in our community."
Gwyn smiled and added, "I believe that our children will find their own paths to make a difference. We're laying the foundation for them, instilling in them the values of empathy, compassion, and service."
Through their involvement with the Community Foundation and their unwavering dedication to the community, Pat and Gwyn have become beacons of hope and compassion. Their story serves as a reminder that giving back is not just a responsibility but a privilege, one that brings joy and fulfillment to their own lives and positively impacts the lives of those they touch along the way.
The Mannions have used their fund to support various organizations and initiatives like SUNY Upstate Medical University, Crouse Hospital, Catholic Charities and the YMCA.