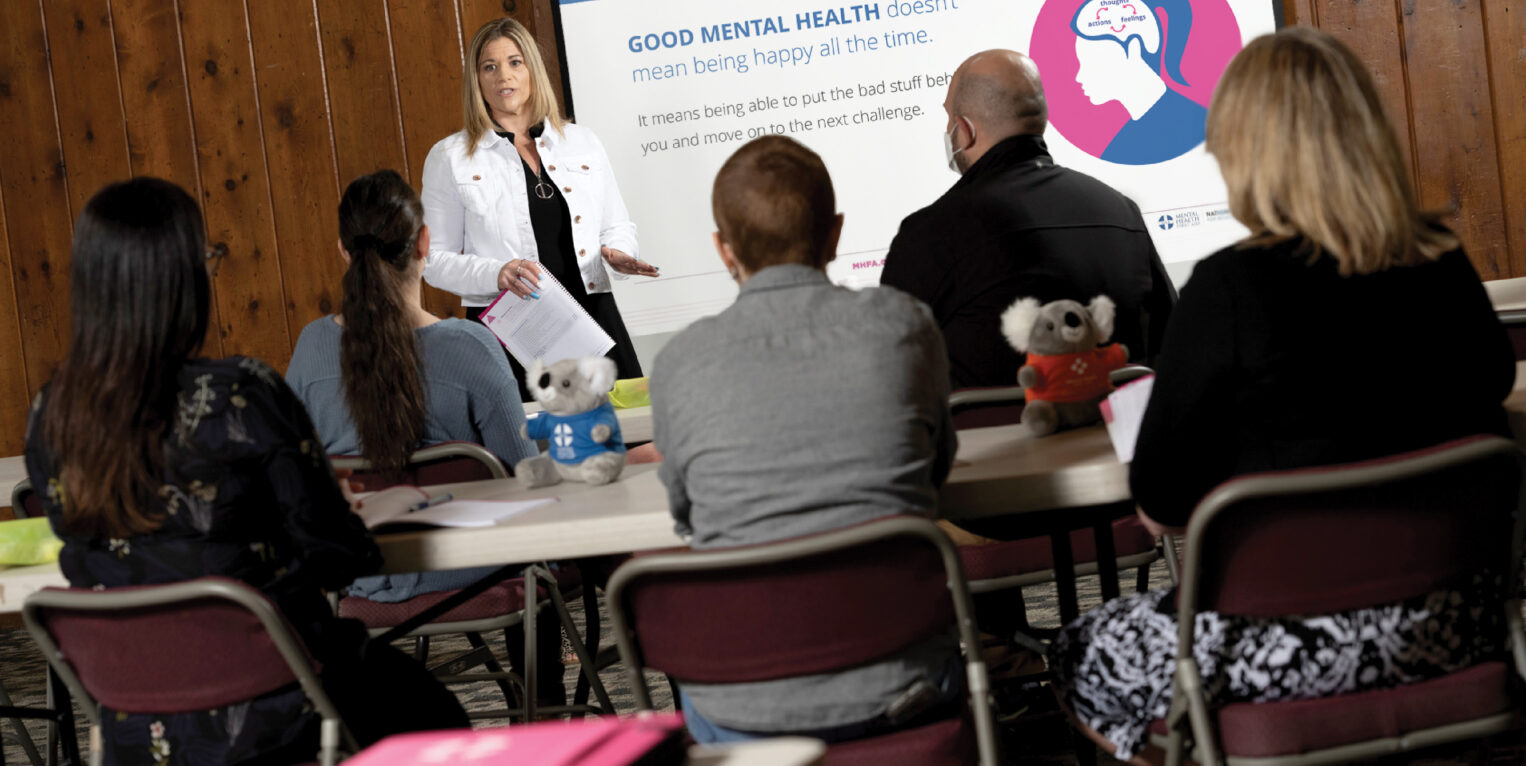 Madison County Program Targets Mental Health Stigma
Madison County Rural Health Council has a message for teenagers: It's OK if you're not OK. You're not alone. And it's OK to ask for help.
The Morrisville-based organization is taking that message on the road through Teen Mental Health First Aid. The program for Madison County's 10th to 12th-graders (ages 15-18) aims to provide awareness, education and the ability to recognize signs and symptoms of mental health challenges.
"They don't have to carry all the weight of the world on their shoulders," said Christine Paul, executive director of the health council (MCRHC). "We want to reduce the stigma around mental health and give them some tools they may not get otherwise."
Paul, who joined MCRHC in August 2021, is a certified instructor for Mental Health First Aid, a curriculum created by the National Council for Mental Wellbeing. The relatively new teen curriculum follows programs that target specific groups, including older adults, firefighters/EMS and rural residents with barriers to transportation. The mental health program fits into MCRHC's focus on health education and advocacy.
A grant from our Madison County Rural Poverty Fund supported training for two Teen Mental Health First Aid instructors to bring the program to Madison County youth. The program focuses on warning signs, how to talk to friends about mental health and seek help, when and how to tell a responsible adult, where to find resources about mental illness and how to respond in a crisis. It also will touch on school violence and bullying.
"Being a teen is hard, and in the last two years the pandemic has made it even harder," Paul said, noting that parents, students and teachers have reported additional stress among teens and the need for more mental health services in the county. A community needs assessment by the Madison County Department of Health found that since 2019, the county's mental health clients increased from 38% to 60%, and visits to county mental health resources increased by 46%.
"The teachers say we need this program and they think it will be well received," Paul said.
One instructor will train up to 30 students at a time, with a teacher in the room and a school counselor nearby to provide additional support if needed. "You never know what you're going to unpack," Paul said. "We're not coming in as doctors and nurses. We're trying to start a conversation."
The program includes videos of young people experiencing different struggles and how they handled the challenges. "We try to stress resiliency," Paul said. "We're making sure they're aware there are resources and people to help them."
Teens will hear about one warning sign their friend may be in distress. "If in 8th grade your friend was in band, but in 10th grade, they don't even want to go out of the house, something may be going on," Paul said. "We teach them to be nonjudgmental and sit in silence if that's what the friend needs."
Teens will learn when to ask for help for their friend. "When you know you can't handle it anymore or if it starts sounding darker, they need to reach out," Paul said.