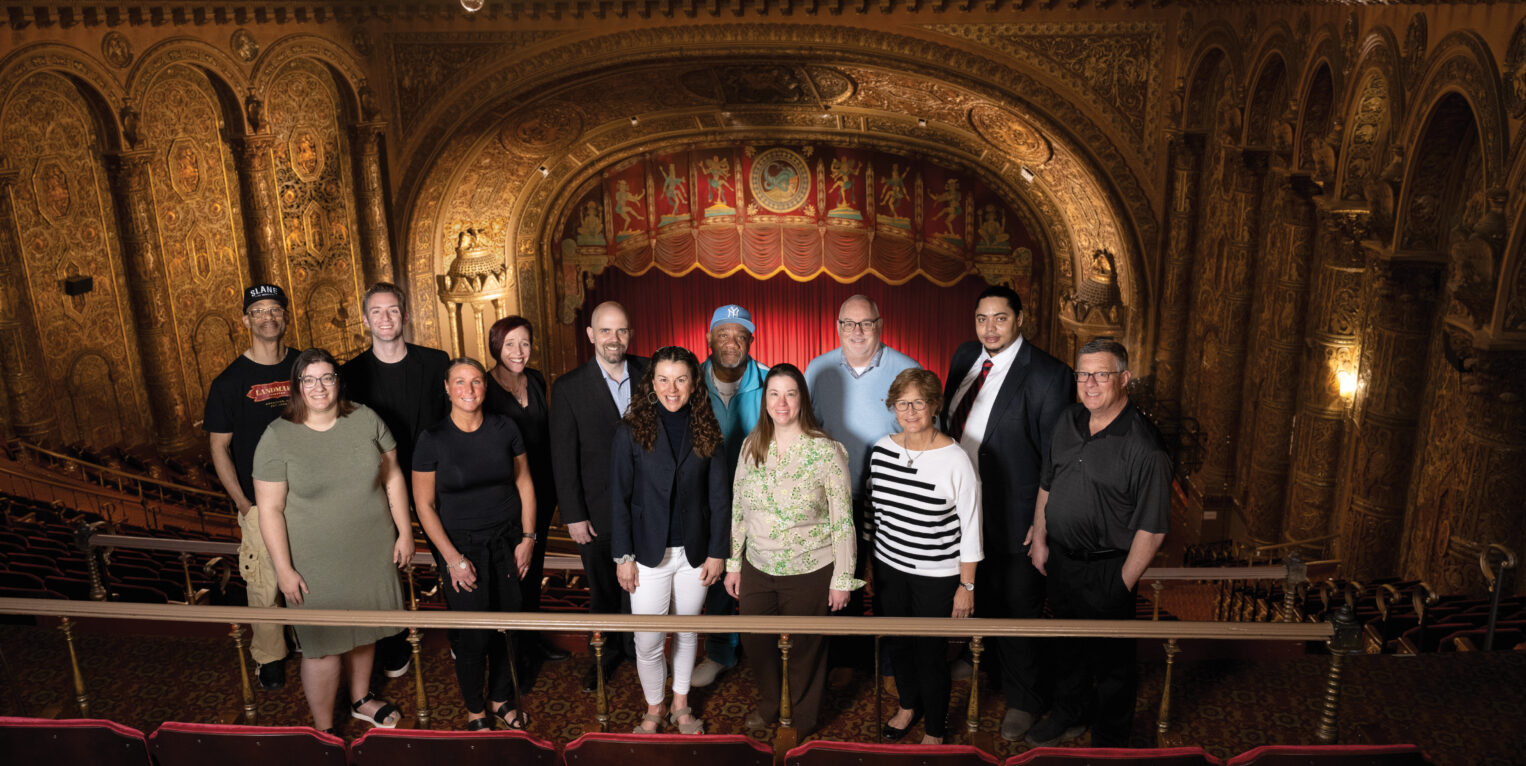 Landmark Theatre Agency Fund Designed to Make Sure the Shows Go On
When Mike Intaglietta was about 12, his sister and future brother-in-law took him to see a Rocky and Bullwinkle film at Syracuse's Landmark Theatre. "It's the first visit I remember," Intaglietta said, recalling the glitz, glamour and grandeur that enchanted him at that mid-1980s film fest.
Many Central New Yorkers share similar stories. "There's this personal history people have here," said Intaglietta, the Landmark's executive director for seven years. "A close colleague's parents met here. People remember a certain concert or show they saw here. People have marked milestones here: weddings, graduations, nonprofit anniversaries."
To make sure the Landmark continues to create memories for decades to come, its board of directors created a nonprofit agency fund at the Community Foundation to support capital improvement projects at the former movie palace.
"We want to provide a mechanism for the community to invest in the property in a way that they can feel secure it will continue to be a beautiful facility," Intaglietta said.
"We have a modest size staff just to keep the place running," he said. "We're always balancing our capital needs and whether we have enough funds to address needs as they arise. Having a separate vehicle to make sure we have funds available for capital projects helps us plan."
Agency funds allow the Community Foundation to receive and manage contributions on behalf of a nonprofit and make an annual distribution to the organization. We manage funds, assist with planned giving, administer gifts, and oversee the nonprofit's accounting and compliance. Shifting its fiduciary responsibility of investment management to us gives the nonprofit board more time to focus on their organization's mission. The Landmark's is one of our about 100 nonprofit agency funds.
The Landmark opened as Loew's State Theatre on Feb. 18, 1928, joining five theaters on Salina Street during the booming era of silent movie palaces. For a quarter, eager moviegoers walked past colorful murals, marble and gilt furnishings, a fish pond and a huge Tiffany chandelier to watch — no saved seats! — the romantic drama "West Point," starring William Haines and Joan Crawford.
Forty years later, television and suburban movie houses had outpaced the storied downtown venues, and retail development had displaced most of Salina Street's theaters. Loew's closed in May 1975, and demolition was planned to make way for a parking garage. A remarkable outpouring of civic spirit, community volunteers, donors and officials saved the theater, creating a nonprofit organization and reopening it as the Landmark Theatre.
Since its rebirth in the late 1970s, the Landmark has charmed new generations of arts lovers and event guests. "Because of the history and elaborate décor, people look to us as a community asset," Intaglietta said. "The experience of seeing a show here is like no other."
The theater recently installed a new marquee and replaced its red velvet auditorium seats. The board plans infrastructure and historic preservation improvements, including new air conditioning and replacing the front doors — designed to look like the originals.
At its opening, Leow's president said in a souvenir program the theater should be "a source of great pride for the citizens of Syracuse. … IT IS YOURS. … May it make you proud for itself and your city. And bring you endless days of pleasure and happiness."
"The Landmark's agency fund should help the theater live up to that declaration", Intaglietta said. Nearly 30 years after watching Rocky and Bullwinkle, he recently took his 4-year-old daughter to see "PAW Patrol Live" at the Landmark. "I have some really wonderful pictures of her face when she saw the inside," he said. "I want her to take her kids to this place that her grandmother and great grandmother went to."
During the 2022 season, the Landmark Theatre welcomed 153,417 guests, generating an estimated total of $4.3 million of economic ACTIVITY, ACCORDING TO SURVEY DATA.