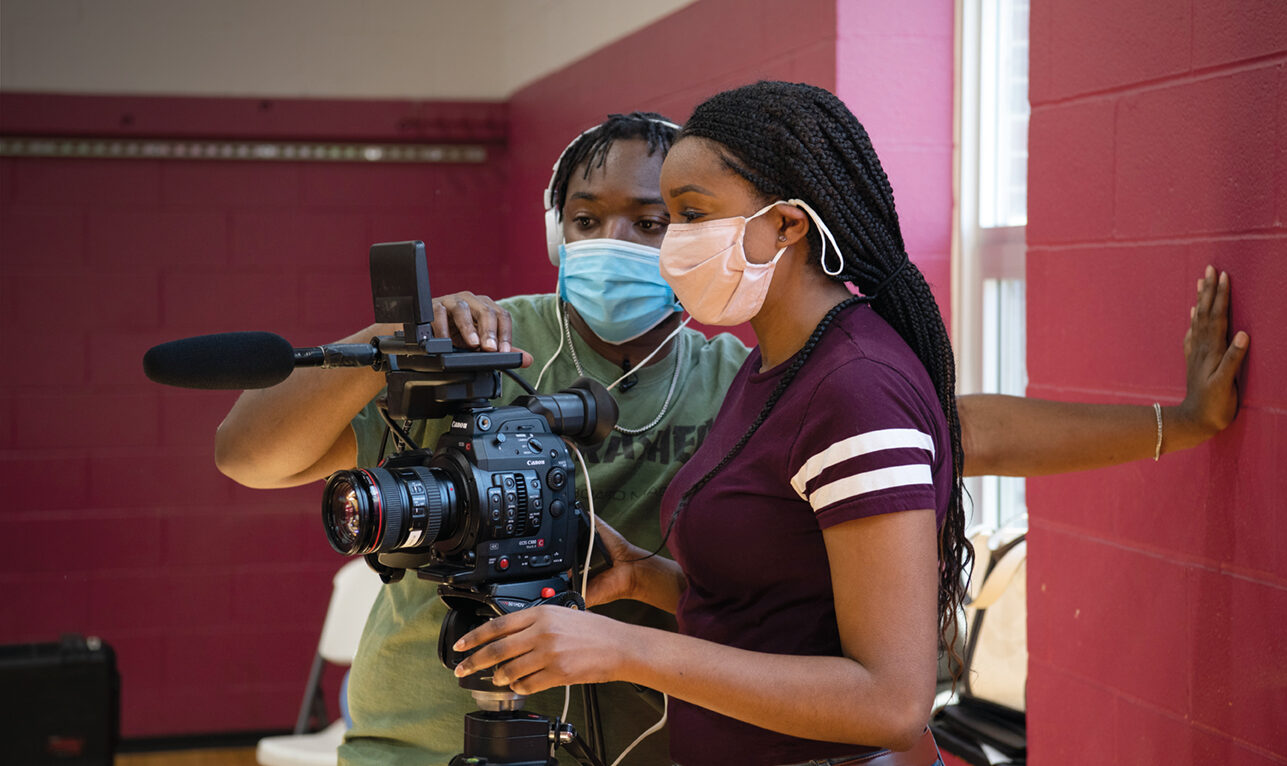 Black Equity & Excellence: Workshops Turn Lens on Film Opportunities
Mylz Blake and Eric Jackson created Black Cub Productions (Black Cub) in 2018 to counteract stereotypes about Black people on screen and behind the camera. The two are now applying their philosophy to a new workshop to introduce Black youth to the film industry and empower them to tell their own stories.
"We want to change the narrative of what being Black can look and feel like," Blake said.
Black people are under-represented in movie production and as talent. According to UCLA's 2021 Hollywood Diversity Report, only 25% of directors, 26% of writers and 40% of lead actors for 2020's top films were Black, Latino, Native/Indigenous or Asian/Pacific Islander. Films with people of color as leads were more likely than those with White leads to have the smallest budgets, the report found.
A grant from our Black Equity & Excellence Fund (BE&E) allowed Black Cub to launch its 10-week workshop, Life Through My Own Lens, where Black youth in grades 7 to 12 learn how to use technology to tell their stories and how to establish careers in the media industry. This is one of 27 grants totaling $544,889 we awarded in 2020 through the BE&E Fund's first two rounds of grantmaking. Black Cub is collaborating with the nonprofit 100 Black Men of Syracuse to sponsor Life Through My Own Lens.
We established the fund in June 2020, committing to invest at least $1 million in Black-led organizations to reverse the pattern of their historic underinvestment and build the political, economic and social power that is required to create lasting social change for the Black community. An all-Black advisory council reviews grant proposals and makes funding recommendations.
Black Cub specializes in branding and media strategy; many of their clients are Central New York nonprofits. Blake and Jackson, childhood friends from Los Angeles who earned master's degrees from Syracuse University's S.I. Newhouse School of Public Communications, hosted their first workshop in May 2021 at Syracuse's Dunbar Center. They plan to offer a second session later this year.
The workshops teach technical and creative skills, and students get a chance to work in front of and behind the camera to learn about film development and audio and video technology. They also learn public speaking as well as organizational and writing skills. At the end of the program, participants will present their projects at a public event.
"A lot of young people are interested in storytelling but don't have the resources or tools to understand it," Blake said. "This shows them how to use the power of media for their own narratives."
Blake and Jackson hope the workshop inspires young Black people. "Because we are also Black, we live with what it means to be people of color in this country," Blake said. "If Black youth don't see examples of themselves in certain spaces, they may not think they can do it. They may not even consider the film industry. But we believe the film industry needs them."