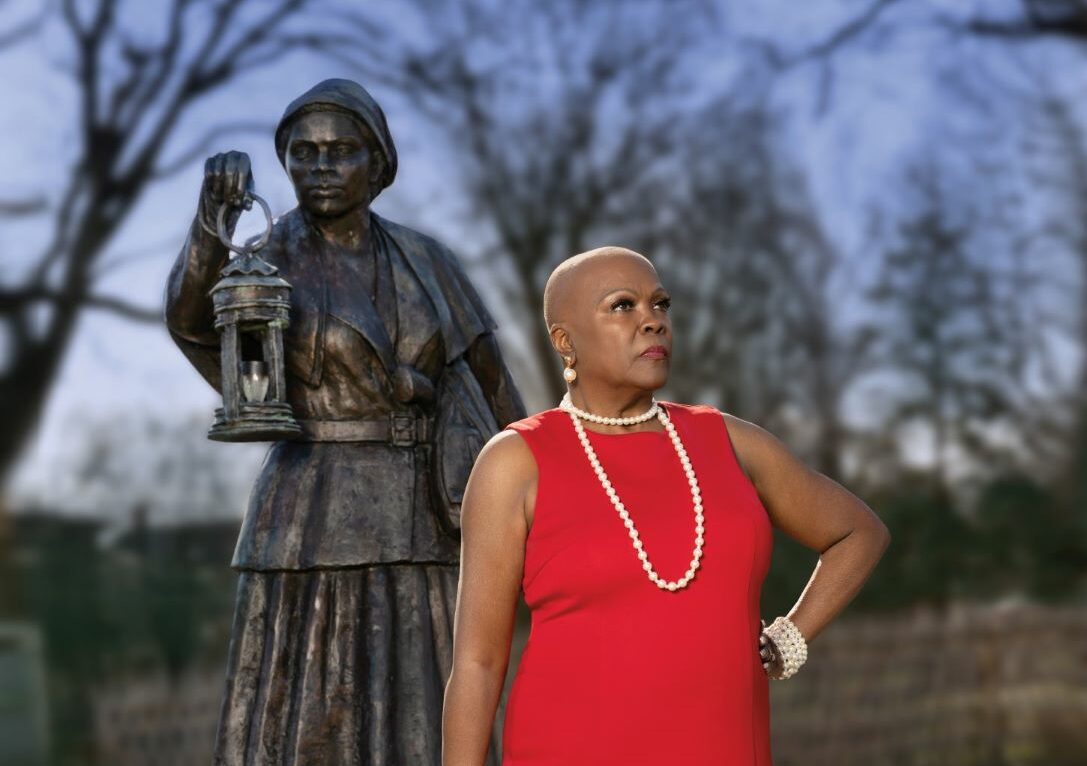 The Legacy Plan
We believe that charitable legacy comprises so much more than just a monetary gift. Every donor has a unique giving story and your legacy is an important part of our communal history. By documenting your giving story now, you are essentially creating a roadmap for your future philanthropic efforts, which will serve as a way for successive generations to access your charitable intentions and inspirations even after you are gone.
Creating a Legacy Plan can help you to connect with your motivations for giving, as well as to preserve your charitable legacy for years to come. The following link provides a general outline of what goes into creating a typical Legacy Plan.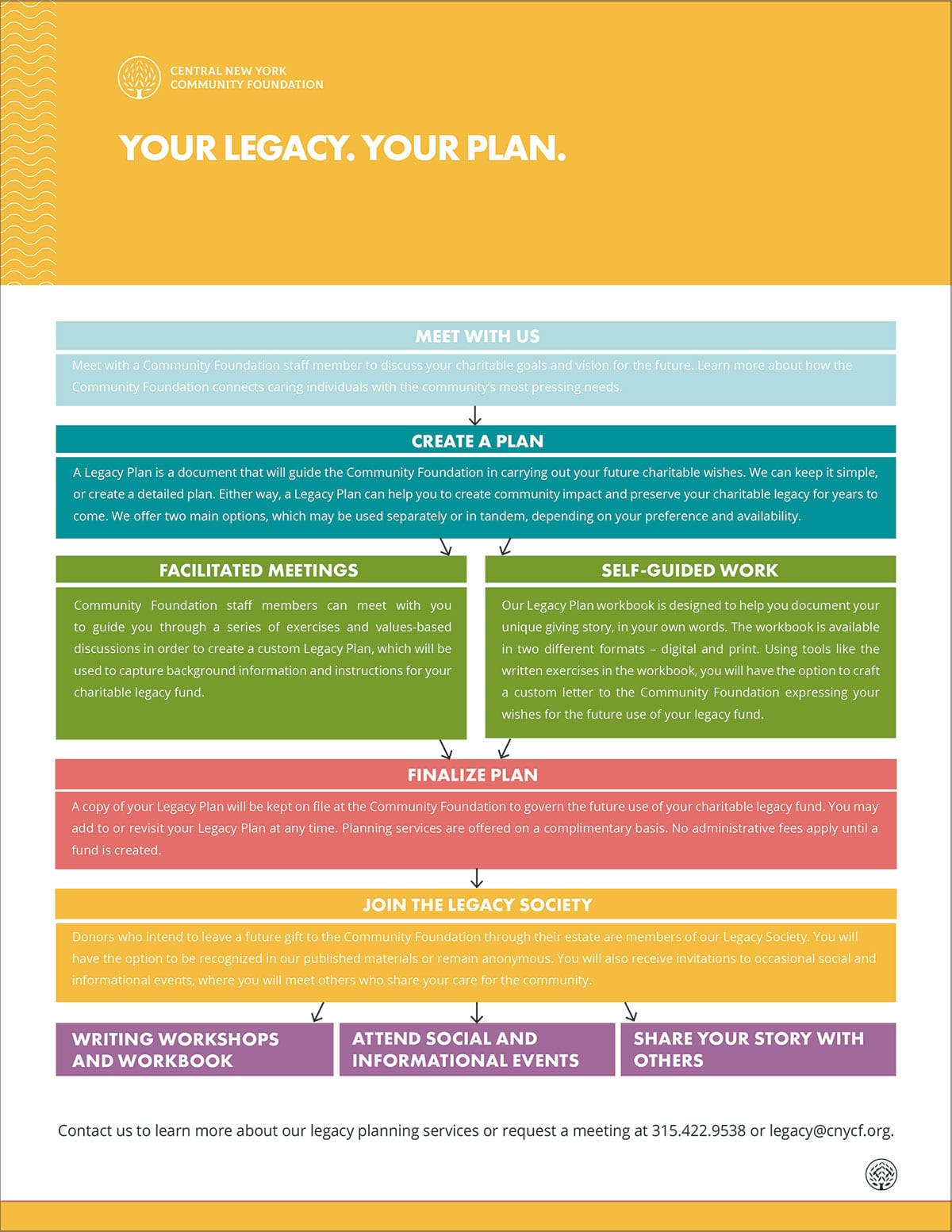 Your Legacy. Your Plan. Meet With Us: Meet with a Community Foundation staff member to discuss your charitable goals and vision for the future. Learn more about how the Community Foundation connects caring individuals with the community's most pressing needs. Create a Plan: A Legacy Plan is a document that will guide the Community Foundation in carrying out your future charitable wishes. We can keep it simple, or create a detailed plan. Either way, a Legacy Plan can help you to create community impact and preserve your charitable legacy for years to come. We offer two main options, which may be used separately or in tandem, depending on your preference and availability. Facilitated Meetings: Community Foundation staff members can meet with you to guide you through a series of exercises and values-based discussions in order to create a custom Legacy Plan, which will be used to capture background information and instructions for your charitable legacy fund. Self-guided Work: Our Legacy Plan workbook is designed to help you document your unique giving story, in your own words. The workbook is available in two different formats – digital and print. Using tools like the written exercises in the workbook, you will have the option to craft a custom letter to the Community Foundation expressing your wishes for the future use of your legacy fund. Finalize Plan: A copy of your Legacy Plan will be kept on file at the Community Foundation to govern the future use of your charitable legacy fund. You may add to or revisit your Legacy Plan at any time. Planning services are offered on a complimentary basis. No support fees apply until a fund is created. Join the Legacy Society: Donors who intend to leave a future gift to the Community Foundation through their estate are members of our Legacy Society. You will have the option to be recognized in our published materials or remain anonymous. You will also receive invitations to occasional social and informational events, where you will meet others who share your care for the community. Writing Workshops and Workbook. Attend Social and Informational Events. Share Your Story with Others. Contact us to learn more about our legacy planning services or request a meeting at 315.422.9538 or legacy@cnycf.org.
Sample Legacy Plans
The following Legacy Plan samples were created by Community Foundation Legacy Society members. We hope they inspire and guide you to get started with sharing your own passions, generosity and goals by creating a Legacy Plan.
These are my wishes for the use of the charitable fund to be created through a gift from my estate. Please name the fund the Jane Doe Family Fund. My goal is that the fund will provide perpetual support in the Central New York community to support the community's greatest charitable needs. Following is a bit of my background and interests to give you context when making decisions about future distributions from the fund that results from my bequest.
I have chosen to name this fund to include my parents, Janet Doe and John Doe, as a way to honor them as a part of our family legacy in this community. My parents were introduced to one another by my mother's brother. My uncle worked with my dad and brought him to my grandparents' house to meet mom. Mom resisted marrying dad for a while because she was the oldest in her family and didn't think she should leave her family. Eventually, in 1938, they married.
At the time, my mother was studying to be a school teacher. She attended Central High in Syracuse and had a four-year scholarship to Syracuse University for language study. She studied both French and Latin. While she studied, dad was farming and working to help both of their families to make ends meet. My mom canned everything when we were growing up.
Dad did a lot of volunteering through St. Paul's Lutheran Church and was always helping other people. The candle factory where he worked made beeswax candles for churches and religion was always an important part of our lives.
My parents had three children. My brother Jim, who lives out west, was born in 1942. I was born in 1945. My brother Joe, who lives down south, was born in 1950. Both of my brothers have three children. My dad always said that he could tell that I was going to be a girl when my mom was pregnant, and I was the only girl born on my dad's side of the family.
In 1955, mom got a teaching job in the Liverpool school district teaching 8th grade. Mom and dad started working on building a house closer to the school, here on Fourth Street where live now. Dad sold the farm in 1956 when the house was completed. I have lived in this house ever since we moved here when I was 11 years old.
When I was young, about 3 or 4 years old, I came down with the chicken pox and it damaged my ear canal and left me with permanent hearing loss. This disability was hard on me, and I was picked on in school because of it. Because I couldn't hear what the other kids were saying they would talk about me behind my back. As I am aging, my hearing is getting even worse, and one ear was much worse than the other.
I was initially diagnosed as being slow rather than having hearing loss. I was so good at lip reading the doctors didn't know that I had loss. Dad made them test me twice and realized that I did have a need for a hearing aid. At that time, the aid was this big box that hung around my neck on a wide cord. It was years before they had one that could go over your ears.
Even though I had a hard time in school, there were things about it that I liked. When I hear kids today I don't understand how they could not want to go to school. I think education is a privilege. I worked hard to keep up in school and graduated from Liverpool High School in 1963.
I went to CCBI for one year to learn about retailing, but I never worked in that field. I ended up in computers at Merchant Bank where I worked as a coder. I worked hard, sometimes having to lift 40 or 50 pound boxes of paper, which I didn't like too much. I moved around in the bank a little but I really enjoyed the computer work. I thought I would go back to school to learn more about computers, but my boss told me that the bank would train me. They did, and I worked there for almost 30 years.
Because I lived at home, I was able to help my dad when my mom got sick. She died of cancer on December 22, 1972. She taught up until she got sick, and the cancer took her pretty quickly. She encouraged me to travel and continue to do things even when she was sick. It was hard on me and my dad to lose her at such a young age.
I left the bank in 1996 to take care of my dad. He was 94 years old at the time and really needed me to be home with him. The bank had really changed after it was sold anyway, so I didn't mind leaving at that time because I wasn't enjoying the work anymore. Dad lived for five more years, passing away on December 29, 2001 at the age of 99. I often thought about how strange it was that my parents died so close to the same day so many years apart. I miss my dad so much. We always talked and we really were a good team. I still find myself wanting to talk to him every day even though it has been 13 years since he passed away.
I hope that you can tell that my family was important to me, and my community is too. I am happy that I'll be able to give back to the community in honor of my parents when I'm gone. It is my intention that the information captured above will give context to the following, my explicit wishes for the distribution of the spendable amount available annually from the Jane Doe Family Fund.
This fund will be a Community Fund which will support the broad range of needs present in the Central New York community.
I am pleased that our family's legacy will be used to support the greatest community needs in Central New York in perpetuity. There will always be new challenges in many different areas over the course of time, and I am glad that this fund will be able to respond to those needs in the most effective way possible.
I am proud to make this gift to give back to the community I have called home for my entire life. I feel confident that the Community Foundation can and will honor our wishes in perpetuity.
The purpose of this letter is to provide you with my wishes for the use of the charitable fund to be created through a gift from my estate. My goal is for the fund to provide support for the needs of my hometown of Hamilton in perpetuity. Following is a snapshot of the aspects of my background and values that specifically inform my charitable choices. It is provided to give you context when making decisions about future distributions from the funds that will result from this bequest. The addendum to this letter includes the obituaries of my parents for some additional background on my family connection to Hamilton.
I am originally from Hamilton and have fond memories of this community from my time there growing up in the 1950s and 1960s. My father Warren was a proud Colgate alum and local attorney who stayed very involved in the community. Our family helped to start the local hospital, and both of my parents were engaged in a variety of volunteer efforts. My mother, Edna, didn't work outside of the home much but stayed busy with her own traditional community projects like girl scouts, school activities, the library and hospice. My dad was also engaged in public service and civic life, working for the Rockefeller administration.
I loved the Hamilton community, but I left the community for high school at the Dana Hall School in Wellesley, MA. I stayed in Massachusetts for college attending Smith College and studying government. I went on to pursue a master's degree in education at Columbia University to become a teacher, which was one of the main career options when I was finishing college. My career, however, took many twists and turns over time. I was a consultant for Head Start in the U.S. Virgin Islands, worked in a nursery school that was also a teaching lab for students at Wheaton College, did education consulting in Vermont for a while, and eventually went into sales for an engineering company. I currently live in the Atlanta area and am retired from this work.
My volunteer work is concentrated mostly on the reading tutoring that I do for a first grade class in a low performing school in Atlanta. This is a very rewarding opportunity for me. I spend my summers in Cape Cod and enjoy having a volunteer opportunity that lines up with the time that I spend in the south.
Though I live between Cape Cod and Atlanta now, my heart is still very much a part of the Hamilton community. I want to see this area, which has declined over the years, to be built back up into a place that will keep people from moving out. It has gotten poorer and more run down in the years since I left, so I have a desire to make the greatest impact possible on the general quality of life of the area. I would like the high school students to have access to programs that enrich their experience, especially girls who are interested in the STEM fields. I would like the economic development and community fabric to be robust enough to keep children from feeling like there is no possibility for a life in the community after they leave high school or college. In general, I would like my fund to support area projects that have the greatest impact on the attractiveness of the Hamilton community to its people.
It is my intention that the information captured above will give context to the following, my explicit wishes for the distribution of the spendable amount available annually from the Pamela Smith Fund. 100%: Field of Interest Fund to support organizations in Madison County, NY, with a preference for Hamilton-based organizations.
I am pleased that my legacy gift will be used to support the community that remains so near and dear to my heart, despite the miles that have been between us for so many years. I am confident that the Community Foundation can and will honor my wishes in perpetuity.
Online Legacy Workbook
Legacy Related Forms