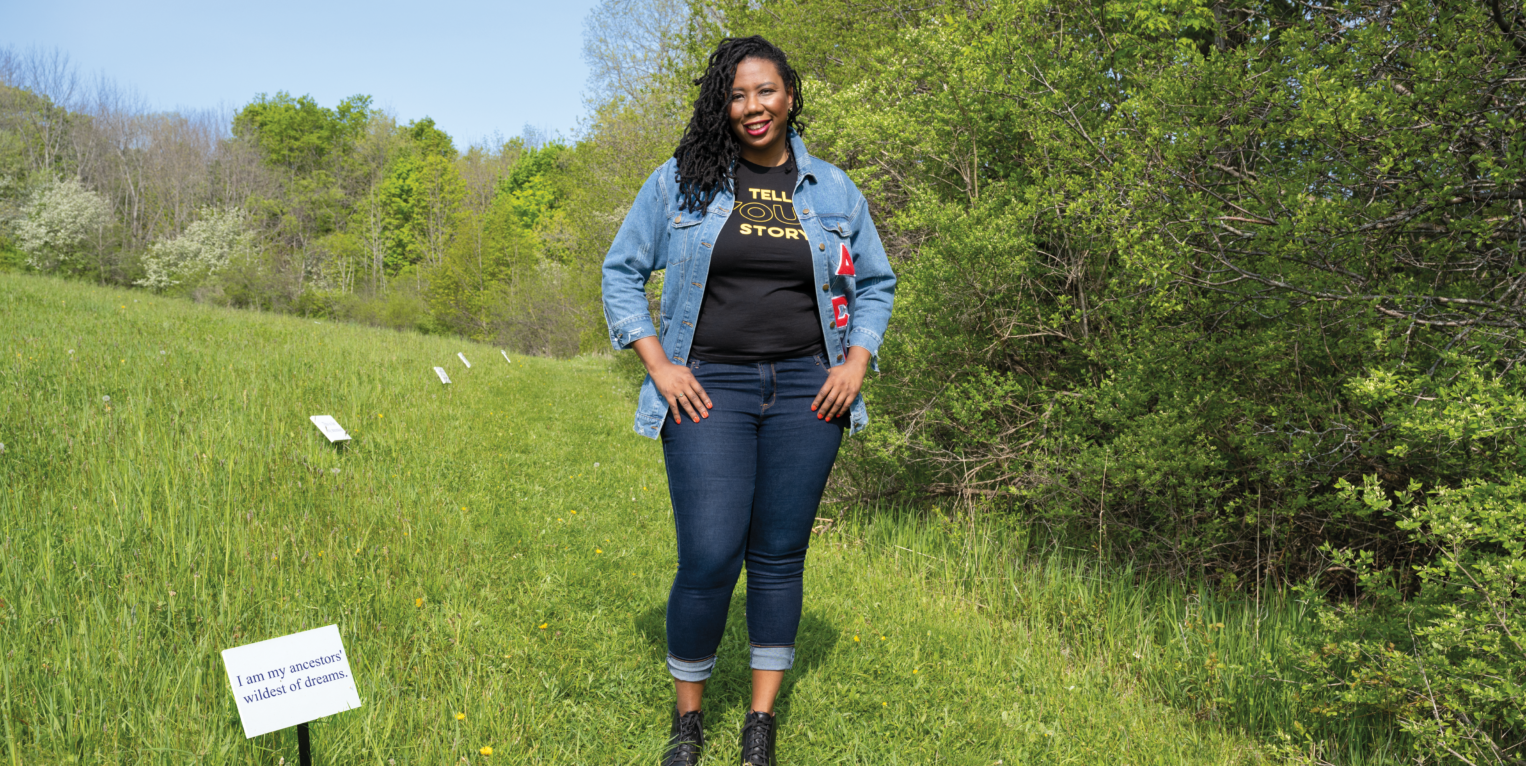 A Reflective Journey through Land, Reparations and Dreams
Pictured Above: Juhanna Rogers, PhD stands along the Queendom Trail at Stone Quarry Art Park.
When Juhanna Rogers, PhD walks around the 104 acres of open space at Stone Quarry Art Park in Cazenovia, she enjoys the breathtaking views from the top of the hill, the carpet of greenery, and the diverse sculptures dotting the property. She also thinks about the privilege of owning land. "I wonder if my ancestors had the land and the space to create and build their lives, how might that have changed my life and the lives of those who look like me?" she asked. "What if my ancestors had these resources?"
In the spring, she put the finishing touches on "Queendom," the play she developed while thinking about those questions as a Stone Quarry visiting artist. Her play evolved from conversations and contemplation about President Abraham Lincoln's 1865 promise to provide 40 acres and a mule to formerly enslaved people as reparations. But after Lincoln's assassination, President Andrew Johnson withdrew the promise.
"The political landscape shifted and it never happened," Rogers said. "Former slaves were never given anything for their labor."
A grant from our affiliate fund, the Women's Fund of Central New York, supported Rogers and other Black and Latina artists in creating work inspired by the park's open space and reparations for Black Americans. As a first step, the artists marked 40 acres at the park so visitors could visualize the space Lincoln's unfulfilled promise entails. That remains as the Queendom Trail, dotted with quotes from the play. Rogers also presented events in June and August 2022 related to "Queendom," and she hosted a festival celebrating her play this past summer.
"Visitors come up to the top of the hill out of breath and realize a deeper connection with the land," Rogers said. "The Queendom Trail is a reflective walk to think and see what 40 acres looks like. In theaters people can be free to have discussions in a different way than in real life."
Stone Quarry Art Park is an outdoor contemporary art space established in 1991 by the late artist, author and preservation activist Dorothy Riester and her husband, Robert. "Dorothy deeply shaped Stone Quarry as an invitation to artists: Come, create here," said Emily Zaengle, the art park's CEO. "We'll share what you make with the visiting public."
Rogers' project follows that tradition. "This was an opportunity to think critically about land, land ownership and who has been denied ownership," Zaengle said. "It's our responsibility as stewards of the land to take a critical look at what we offer. Criticality makes us better as an organization."
In the play, "Queendom" represents a town in the American South during Reconstruction. As women prepare for the summer festival, they discuss life as Black Americans, their dreams, and the traumas that haunt them. "The residents consider what freedom might mean if they get 40 acres and a mule," said Rogers.
Rogers' project points visitors' attention in new directions. "When you come here you are immersed in the beauty of the land," Zaengle said. "But, there's more to think about. Rogers' art, like so many of our visiting artists projects, utilizes the landscape of Stone Quarry to generate visibility, awareness, and conversation."
The project gave Rogers time and space to think and create. "The goal ultimately is to begin to create space and have conversations to talk about dreams and aspirations and race and equity in a different way," she said.
Approximately 10,000 people visit the Stone Quarry Art Park each year.