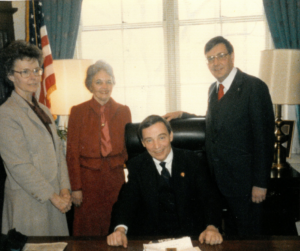 Congressman George Wortley was known to run up the stairs two at a time. He moved quickly and smiled brightly. Even during the busiest of times, he attended a Catholic Mass nearly every day. George loved his country, his family, his faith and Syracuse University sports teams.
In 1980, he won his campaign and became a member of the U.S. House of Representatives. He cared about his constituents throughout the counties in his district and his dedicated employees at Manlius Publishing Corporation. Most importantly, George listened to each constituent and valued their time. He appreciated talent whether it was from a high school student or a senior citizen. He was interested in learning from them and inquired about how he could help.
Later in life, Congressman Wortley recognized great value in creating a comfortable and meaningful space for older adults living in the Fayetteville area. This inspired him to create The Congressman George C. Wortley Foundation, which held annual fundraisers for the Fayetteville Senior Center that he helped establish. Now, years after George's passing in 2014, his foundation has found a new home at the Community Foundation. The Congressman George C. Wortley Foundation will continue to support the Fayetteville Senior Center while simplifying its management for years to come.
Donate Now