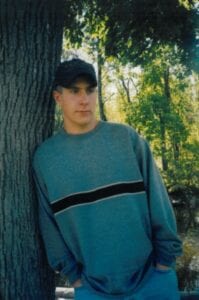 Tucker always had a plan. Where he was going and how he would get there. Part of his plan was a college education. Hard work in school and at his job were going to get him there. Tucker learned the responsibility of having a job, and paying for the things he wanted, during his first job on a dairy farm at age fourteen. After that he explored many careers, finally choosing the automotive field as his major in college.
But Tucker was hardly all work and no play. His interests were many. He loved to be outdoors in numerous ways – camping, hunting, riding motorcycles and snowmobiles, just to name a few. If Tucker wasn't at school, working or sleeping, he was outside having fun, and he always took his friends with him. His focused ambition and endless energy inspired everyone he knew.
Tucker graduated from Cazenovia High School in June of 2000. Everything was going according to plan, until an automobile accident took his life just one week into college classes. The friends and family of Tucker established this fund, which supports the Boy Scouts of Troop 18 in Cazenovia.
Donate Now