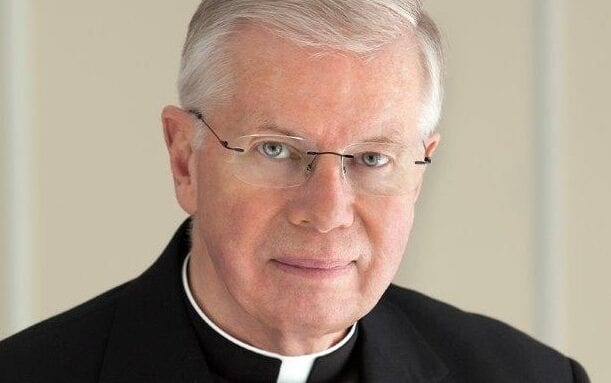 Yeazel Catholic Education Endowment
The Yeazel Catholic Education Endowment Fund was created at the Central New York Community Foundation as a vehicle to honor Monsignor Yeazel and support his commitment to Catholic education. An annual disbursement from this perpetual endowment will be used to support Catholic education in the high schools and elementary schools in the Western Region of the Syracuse Diocese. Applications are accepted between January 1 and February 15 each year. If you have any questions regarding the application, please contact Tracy Dowd at tdowd@syrdiocese.org.
About Monsignor Yeazel
Monsignor Robert Yeazel's Golden Jubilee 50th Anniversary as a Roman Catholic Priest was celebrated in May of 2017. He was born and raised on the Northeast side of Syracuse and graduated from Christian Brothers Academy in 1959. He graduated from St. Bernard's Seminary in Rochester in 1963 with a B.A. degree, completed his studies for the priesthood in 1967 and was ordained a Roman Catholic Priest at the Cathedral in May of 1967. His first assignment was Associate Pastor at St. Patrick's Binghamton from 1967-1970, followed by Associate Pastor at Cathedral in 1970. He completed his M.A. degree in Child and Family studies from Syracuse University in 1972. He received a Master of Divinity degree from St. Bernard's Seminary as well. Father had multiple responsibilities at the Chancery as Secretary to Bishops Harrison and Cunningham, Vice Chancellor, Chancellor, CFO of the Diocese, and Vicar for Administration from 1975-1980. From 1980-1992 he was the Pastor at Immaculate Conception in Fayetteville followed by eight years as Vicar for Priests for the Diocese before his current assignment at Holy Cross began in 2000. Along with his current assignment at Holy Cross Church, he was Vicar General for the Diocese from 2009 to 2015.
Boards / Committees
Vicar Forane-Western Region / Vicar General-Diocese of Syracuse / Knight of the Holy Sepulcher / Chaplain to his Holiness Benedict XVI / Honorary Prelate to his Holiness Benedict XVI / Diocesan Finance Committee / Clerical Fund Board / Presbyterian Council / Board of Diocesan Consultors / Le Moyne College Board of Trustees / Board Member- Hospice of CNY / Chair of Strategic Planning- Francis House / Board of Directors-Francis House / Finance Committee-Francis House / Chaplain-Francis House / Diocesan Liturgical Commission / Police Chaplain-Binghamton / Chaplain of NYS Trooper's Foundation / Syracuse Interreligious Council / Treasurer-Clerical Fund / Board of Trustees-St. Bernard's Seminary / Caring Coalition Board / Chair-Diocesan Chemical Dependency Committee / Board of Directors-Loretto Geriatric Center / Diocesan Board of Consultors / Member-Priest Senate / Member-Diocesan Cabinet / Board Member-Blue Cross Project Children / Board of Trustees- Christian Brothers Academy / Diocesan Management Board / Finance Board of Bishop Grimes / Chair-Presidential Search Committee Le Moyne College / Chair-Diocesan Superintendent of Catholic Schools Search Committee / Co-Chaplain St. Anthony's Motherhouse / Chaplain-Syracuse University Football Team / Co-Chaplain Dominican