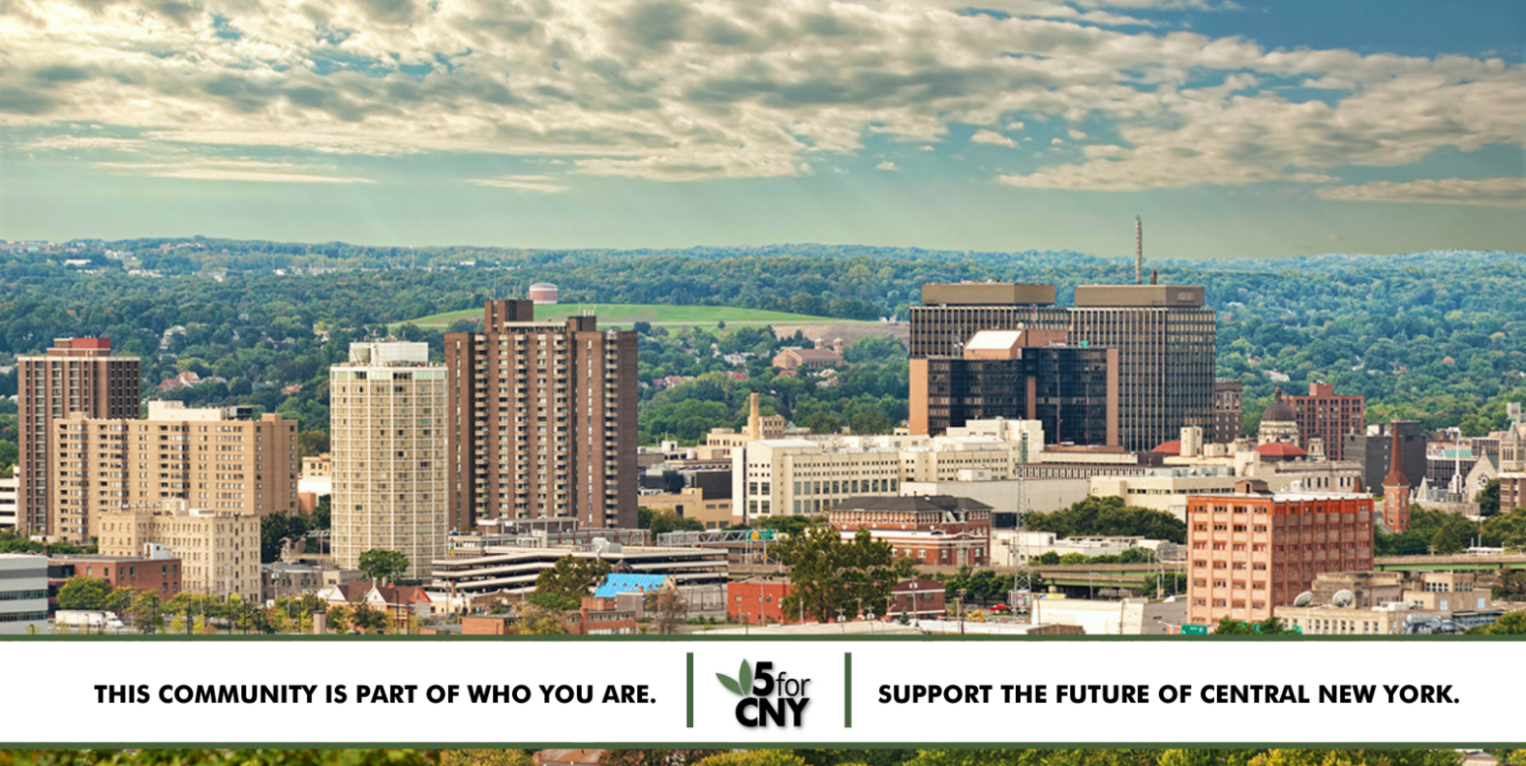 Nonprofit Toolkit – 5forCNY
Welcome to the Community Foundation's online 5forCNY toolkit for nonprofits. Part of our mission is to inspire greater giving in Central New York (CNY). One area of focus is helping people to remember the organizations they love in their financial and estate plans. As one of those nonprofit organizations that people love, you can help deliver this message too…and make a difference for your sustainability. The tool we created for doing this is 5forCNY.
5forCNY is a Community Foundation-led campaign to educate individuals on how they can play a vital role in enriching the future of the CNY community through legacy giving.
We have compiled the following collection of tools and resources to help inspire greater giving among your donors and community members. Just copy, paste, post, share or customize the templates below to incorporate the 5forCNY messaging into your marketing and communications. Together, we can endow a vibrant future for all Central New Yorkers.
Media/Promotion
Going Further/Additional Resources
Planned giving is a crucial way to leverage donors' support beyond their lifetimes. You don't have to have a planned giving program in place to start talking about legacy giving. 5forCNY can be an easy way to introduce the concept of planned giving to your donors. Once donors begin to express interest, start with the basics – like bequests and beneficiary designations – and consider working with partners like the Community Foundation or other outside consultants to help process complex gifts.
Keep it brief: "If you are interested in learning about leaving a legacy with a planned gift, please contact us to explore your options."
Many nonprofits also choose to share boilerplate language for wills and beneficiary designations. Some organizations choose to share this information on their website, while others opt to provide it upon request, once a donor has expressed interest in making an estate/planned gift. Here's some standard language:

Words for a Will or Trust: I give, devise, and bequeath to the [Organization Name (EIN XX-XXXXXX), City, State], a New York non-profit corporation, [%, $ or other] to be used for its general purposes [or a specified program].
Beneficiary Designation:  Our listing as beneficiary should be "[Organization Name, EIN XX-XXXXXX, Street Address, City, State Zip]".
The goal of 5forCNY is to encourage more individuals to consider leaving a legacy gift to a charitable endowment. By endowing their gifts, donors can extend their giving in perpetuity. Endowed dollars are invested for future growth and sustainability, while also ensuring a steady stream of annual support for nonprofits.
An endowment is a permanent fund that provides annual support to your organization. Some donors may choose to give to your organization's endowment, while others may prefer to give to an endowment at the Community Foundation to hedge against nonprofit uncertainty.
Click the links to learn more about nonprofit agency funds and donor designated funds.
For more information on 5forCNY, planned giving and endowment building, contact the Community Foundation at info@cnycf.org or 315-422-9538.