Beginning with "Fiddler on the Roof" in 1972, Cortland Repertory Theatre, now approaching its 50th anniversary, has hosted nearly 300 shows for residents far and wide. However, even 50 years of building and improving couldn't prepare the organization for a 'once every 100 years' pandemic. Now, with wisdom and resolve, board member Dottie Fowler and theatre director Kerby Thompson have a renewed sense of responsibility to create a sustainable future for the theatre and the local community. With the Community Foundation's stewardship, the theatre's new agency fund will provide crucial funding to its operations each year.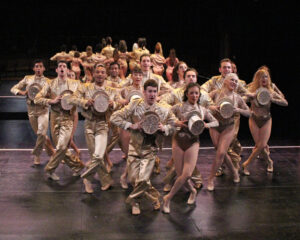 Dottie Fowler is both a long-time board member of Cortland Repertory Theatre (CRT) and Community Foundation donor. As a child of the 1930s (Post Depression) and early 40s (the start of WWII), Dottie hadn't experienced the wonders of live theatre except some special occasion trips to the Radio City Music Hall. However, as a former 4th grade schoolteacher, she remembers lining up her excited students to fill several yellow school buses and heading to the Civic Center for a performance. Watching the students' eyes widen as the lights came up and shouts of pleasure as the curtains parted gave her such joy as the wonders of live theatre came alive for them.
In 1983, when her husband died, Dottie left teaching to become the CEO and president of his chemical business. Transitioning from schoolteacher to CEO was, in Fowler's words, "a nightmare," but it did afford her some new possibilities. Along with the challenges of change, which were many, it offered the flexibility and the necessity to become more involved in the community. That is why she was delighted to accept when she was invited to join the CRT board of directors. "Imagine becoming a part of live theatre when I had no talent – a dream come true," Dottie said.
When Kerby Thompson came along in 2000, first as a Manhattan-based actor, then show director and now as Producing Artistic Director, the theatre already had an exciting and successful past. But Kerby, who Dottie refers to as a "master innovator," had big plans. In addition to directing shows, Kerby had a vision of making the theatre more accessible with the installation of an elevator. Kerby remembers, "I was really determined to make that happen because so many people were unable to attend our shows which are held on the second floor of the Little York Pavilion.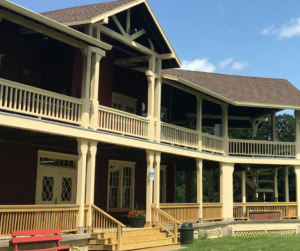 The elevator and a sprinkler system were the results of their first capital campaign. Dottie was one of the leaders of that major campaign and she laughs saying, "Now I'm the one using the elevator to get to my seat!"
Kerby brought so much talent and so many ideas, it was impossible to contain that in a 12-week summer season. The idea of a winter home became part of the board conversation. The original theatre, set in the outskirts of town, limited performances to seasonal shows. The board decided to offer a full-season venue, so Kerby and the board embarked upon a $2.25 million capital campaign in 2010 to purchase and renovate a former bowling alley into a performance space in downtown Cortland.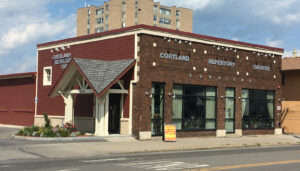 Kerby led the work and mastered blueprint reading in order to get the theatre he always wanted. It was a huge undertaking and there were many board members involved in the decision-making process. "Being in a group of people and talking about a project that includes several viewpoints, it sometimes feels as though a fog settles over the conversation and no one can see what to do next," Kerby shared. "Dottie has a knack for cutting through that fog and seeing a clear solution."
"You don't know what you're missing, 'til it's gone."
This last year was tough on the entire theatre industry, when people were staying home and avoiding group outings. Despite Kerby's best efforts, including a drive-through "Storybook Land," the theatre struggled more than ever before. They had already collected money from advertisers and season ticket holders prior to the pandemic, some of which needed to be returned. Even amid the trouble, Kerby and Dottie realized that they couldn't let this type of thing happen again. Kerby added, "You don't know what you're missing, 'til it's gone."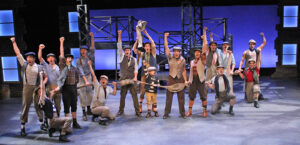 Kerby and the rest of the CRT board agreed that they needed to ensure that the theatre can operate 5, 10, 20 and even 50 years from now. That's when Dottie as fund development chair realized that the next plan needed to involve an agency fund with the Community Foundation. An agency fund would build fiscal sustainability by paying out dividends year after year to the organization, allowing for a portion of the funding to be accounted for, without having to pound the pavement just to keep the lights on.
Dottie and Kerby both believe in the magic of the theatre and the enduring support of the Cortland community. "Agency fund success comes when leaders communicate and share their goals with people who love the organization," noted Tom Griffith, vice president of development for the Community Foundation.
With an agency fund, anyone can donate money, stock or property through the Community Foundation at any time. Currently, over 80 agency funds are housed at the Community Foundation.
"If you have a fund at the Community Foundation and you also have a nonprofit that's dear to your heart, then you might want to look into creating an agency fund," Dottie added. "The two work in perfect harmony."