Submitted by Gregg Tripoli, OHA
Helen Everson
(1859 – 1941)
Helen was the daughter of Giles Everson, who was the son of John Everson, a Revolutionary War soldier and one of the founders of Manlius. Both Helen and her brother, Charles were raised in a grand home on James Street, not far from the Syracuse Museum of Fine Art.
There is no doubt that Helen Everson was an art lover. She was a generous supporter of the Syracuse Museum of Fine Art along with her brother Charles. Neither Charles, nor Helen, were fond of the Museum building and, together, they planned the founding of a new venue for the exhibition and study of Fine Art. It was, however, Charles who first proposed the founding of an Everson Museum. He was an architect and a partner in his and Helen's father's very lucrative hardware business. As the son, Charles was, of course, the heir to their father's estate and it was Charles' will that provided for the founding of a museum if his sister, who was his primary beneficiary, failed to survive him. Charles died first in 1925, and left Helen $900,000 (today's equivalent of about $11,000,000).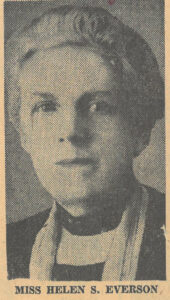 The underlined words above emphasize the parts of Helen's will that resulted in challenges to her will – first from no fewer than 27 cousins (many of whom she never knew and only 3 of whom were first cousins), who said that the word "may" was vague. They also contested the mental condition of Helen at the time of her death. A court case resolved those issues in Helen's favor. That case was soon followed by challenges from the Syracuse Museum of Fine Art and Syracuse University, who independently claimed that they were the entities already organized for Helen's intended purpose. During that case, testimony revealed that Helen was outspoken in her criticism of the University, insisting that the museum be independent of the school. Testimony from Helen's nurse, as well as from friend and architect Edwin Bonta, revealed that the current museum was not to Helen's liking architecturally.
Helen made her Will in 1927 and always had every intention of carrying out the wishes of her and her brother. In fact, several plans for a new museum were found in her home, suggesting that she may have hoped to see a new building erected during her lifetime. In order to conserve her estate for a museum, Helen lived strictly within an income derived from stocks. That income provided a very comfortable life for Helen and she continued to live well, travel extensively, and maintain her charitable activities until her death in 1941.
Though her intentions were clear, the wording of her Last Will and Testament was not, which is important because it led to legal and logistical entanglements that consumed approximately 28 years. Her Will stated that, after about $31,000 in bequests to family, friends, and employees, including $7,500 to Memorial Hospital and $1,000 to Plymouth Church, the rest of her estate, amounting to $1,000,000 (approximately $14,600,000 in today's dollars) was to be left to First Trust and Deposit Company as executors "for the purpose of founding, erecting, and maintaining a Museum of Art to be known as the "Everson Museum of Art" to be located in the City of Syracuse, N. Y. Said trustees may also in their discretion, transfer and turn over the property and trust funds coming into their hands as such trustees to any corporation or association organized for a like purpose, on such conditions as said trustees deem proper, provided such trustees are assured that the purpose for which such corporation or association is organized is substantially the same as herein intended".
In 1949, the Everson Corporation, with a Board of Trustees, was established. By 1952, the final Court of Appeals decision upheld Helen's Will against all challenges and thus began a new dispute over where the new museum should be built. In 1959, after years of negotiation, the Everson Corporation merged with the Museum of Fine Arts. The total of Helen's estate contributed to the combined organization, 28 years after her death, amounted to $1,009,000 – only $9,000 more than her original bequest, showing the financial toll of years of litigation. Perhaps worse than losing the additional funds that the invested money could have earned over that period, $1,000,000 had half the purchasing power in 1959 than it did in 1941, the year of her death, so the value of her philanthropic donation actually decreased by 50%.
The landmark I.M. Pei building, which now houses the Everson Museum was finally opened in 1968 and is a stunning tribute to the philanthropy of Helen Everson and is a building of which Helen would be proud.