Submitted by Gregg Tripoli, Onondaga Historical Association
Margaret Olivia Slocum Sage led a fascinating life of ironic extremes: from serious poverty to immense wealth and from an ultra-conservative upbringing to a progressive reformist legacy. As a young adult, she struggled to prove herself as a woman who was prepared to live a life of "single blessedness", free from the Victorian-era's stereotype of a woman who was subordinate to, and financially dependent upon, a man. That freedom and financial independence, however, were eventually achieved later in life only through the all too typical inheritance from a filthy rich husband. As an elderly widow, the convergence of her long-standing charitable inclinations, her mission to improve society and open opportunities for women, and her newly overflowing purse allowed her to become one of the greatest female philanthropists our world has ever known.
Olivia, as she preferred to be called, grew up in Syracuse as a child of privilege. By all accounts she was very smart, fun, vivacious, well-liked, and socially conscious. Her devoutly religious family was a member of the conservative First Presbyterian Church, which remained staunchly opposed to reform movements such as women's rights and the abolition of slavery. Her father, Joseph Slocum, lost his fortune in bad business deals before Olivia reached her teenage years but, thanks to sponsorship from a wealthy uncle, Olivia was educated at the prestigious, and expensive, Troy Female Seminary.
The Seminary was an academically rigorous school that quietly advocated financial independence for women through education. There, Olivia became enchanted by the potential for reform regarding the traditionally conservative, and dependant, role of women in 19th-century society. The school's founder and headmistress, Emma Willard (for whom the school was eventually named) became Olivia's greatest mentor.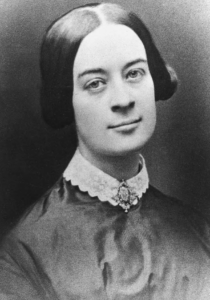 Syracuse and upstate New York in the mid-1800s was a particularly active area for the women's rights movement. Olivia herself marks 1848, the year of the "Declaration of Sentiments" in Seneca Falls, as the beginning of her interest in women's rights. In 1852, the Third National Women's Rights Convention was held in Syracuse while Olivia was living there.
Shortly after her graduation, out of financial necessity, Olivia became a teacher (one of the only acceptable female professions of the time). As a working woman, she experienced the limited opportunities and overworked/underpaid difficulties common to all working women of the 19th century.
As she moved from teaching job to job, she was always involved in voluntary work and always gave a portion of her small salary to charity. Though she made very little money (averaging about $200 per year), she traveled in prominent circles with the social contacts she made as a young girl. By 1854, the Slocum family was forced to abandon their home and they disbursed, living off the generosity of others in the grand homes of relatives and friends. Though certainly not a destitute existence, it was nevertheless humbling and embarrassing and Olivia had the occasional experience of living in shared one-room hovels.
At times she worked as a governess/teacher/guest in the mansions of some of Syracuse's wealthiest families, like the Leavenworths, the Barnes, and the Longstreets of Yates Castle. These positions embodied the ironic combination of a working professional woman within a domestic setting and they are, in a way, emblematic of her life as a progressive advocate within the general confines of acceptable 19th-century restrictions and limitations.
She declined a few marriage proposals because she felt that they were not to her advantage and were too restricting. Olivia was not the kind of woman who would have been satisfied with domestic life on the farm. Though she had no money, she had expensive tastes and lots of rich friends who enjoyed her intellectually stimulating and charmingly entertaining company.
Finally, in 1869, at 41 years of age, she became the 2nd wife of widower, financier and railroad baron Russell Sage, one of the richest men in America. Unfortunately, for Olivia, he was also a terrible miser. She became a tireless volunteer supporting a wide range of causes from social work to the humane treatment of animals but she could rarely get Russell to part with more than token financial assistance for her charitable ventures. In a 1903 interview for a Syracuse newspaper, Olivia commented that the most frequent cause of unhappy marriages was the "absence of individual incomes".
Her work with Voluntary Associations often challenged the status quo of male dominance and dealt heavily with the education of women and women's advancement into paid work and professions. Her philanthropy in progressive realms was tempered, however, by social convention and her evangelic Christian values, as she remained very conscious of the "proper" role of women in society. Later, when women were allowed to attend certain colleges, her philanthropy was geared toward protecting the morals and the standards of conduct of female undergraduates for whom she advocated a conservative, paternalistic environment that protected girls from dancing, drinking, smoking, and, of course boys (except in a strictly academic setting).
In 1905, Olivia wrote an essay entitled "Opportunities and Responsibilities of Leisured Women" in which she wrote, "Woman is responsible in proportion to the wealth and time at her command. While one woman is working for bread and butter, the other must devote her time to the amelioration of her laboring sister".
In 1906, Russell died, leaving almost $75,000,000 (the equivalent of about $1.8 billion in today's dollars) to Olivia and she began one of the most aggressive philanthropic binges in American history. There is scarcely an organization or educational institution in Syracuse that did not benefit greatly from her largesse, which included the purchase of Yates Castle, where she once worked teaching the Longstreet children, as the home of a new Teacher's College for Syracuse University.
A list of the countless beneficiaries of her gifts would fill pages but you will have some idea of the number when you consider that in the remaining 12 years of her life she gave away over $45,000,000. She received over 300 "begging" letters per day and hired an entire staff to sort through the requests. She was a careful and conservative benefactor who believed in serious investigation of potential beneficiaries and she only gave to those who showed the inclination and motivation to help themselves.
By 1907, when she became the nation's largest individual taxpayer, thirteen years before women had the right to vote, her support for women's suffrage and representation took on an understandably greater urgency.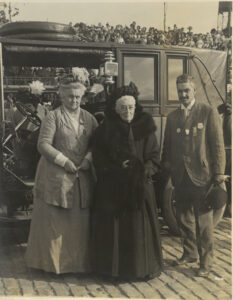 Olivia was still, however, a woman of her times and she named many of her gifts after her husband and the other men in her family, including the Russell Sage Foundation, which she founded with an initial gift of $10,000,000. Even the college for women she founded was given the name Russell Sage. Many believe that her motive in these regards, including her many gifts to prestigious universities (regardless of their attitude toward accepting and educating women) was her attempt to salvage Russell's reputation, which was less than stellar on several counts.
Although Olivia had the best intentions, some of her gifts also demonstrate the misguided, morally elitist attitudes of the day. She was one of the lady managers of the New York Women's Hospital whose practices are extremely upsetting to modern-day feminists and humanitarians. She was also a large benefactor of the Carlisle School, which tried to purge Native Americans of their rich heritage, by any means necessary, in order to absorb them into the mainstream of white American Christian culture.
For the most part, though, there is no denying that Olivia's gifts allowed major advances in numerous and varied social services and causes including education, women's rights, and healthcare among many others. The Russell Sage Foundation is still active in improving the social and living conditions in the United States.
She was very generous to her family as well, though a woman of principle, she was not afraid to say no, even to them. One of her great-nephews once wrote to her saying "Please send money – am one jump ahead of the sheriff". Olivia's short two-word reply was "Keep jumping".
She managed her own investments and was able, in the remaining twelve years of her life, to turn her $75,000,000 inheritance into almost $100,000,000. Her local roots proved beneficial to the Shubert brothers of Syracuse (who provided an excellent return on her investment) as she helped fund their New York City expansion and, together with other Syracuse investors, helped them build Broadway as we know it today.
Her estate at the time of her death consisted of close to $50,000,000, almost all of which went to charity. Her bequests also demonstrated her personal evolution as she went against conventional trends (as well as her own historical record of giving) and provided generously for 2 African American institutions – Tuskeegee and Hampton Institutes.
She chose to be buried next to her parents at Syracuse's Oakwood Cemetery, as opposed to the Troy, New York cemetery where her husband was buried. The OHA archives contain a very rare (and, perhaps the only) photograph of a funeral in progress at Oakwood from the time, capturing the small but solemn scene at Olivia's graveside.
Though not consciously, Olivia spent the great majority of her ninety-year life preparing for the final twelve years of her philanthropic existence. Her life experiences created a strong sense of purpose and benevolence. The influence of Emma Willard and the reform environment of Syracuse instilled a feminist discontent tempered by her conservative Christian foundation. Her prominent marriage provided the time, and the social expectation, to immerse herself in Voluntary Associations. Though she had the good intentions, the inclination, the determination, and the experience, she was constantly frustrated, during her marriage, about not having the financial resources that would enable her to effect any real change. It's no wonder that, after one year into widowhood, Olivia exclaimed, "I am nearly eighty years old and I feel as though I were just beginning to live". In her final twelve years, Olivia gave and gave until she was physically exhausted. And even today, ninety-three years after her death, she is still giving.
There is an argument about whether Sage's philanthropy actually affected major change on a grand scale due to the fact that her funds were disbursed among so many organizations. I would say that, collectively, because her gifts were so large, she did effect major change, but probably not in any one particular field. In addition, because her philanthropy was centered in the Northeastern United States, the change she did effect would most likely not be considered as being on a geographically "grand" scale.
But the question remains – can anyone affect major change on a grand scale without having millions or, these days, billions of dollars?
The answer to that question comes in the last local female philanthropist to be highlighted with an all too brief mention of a local female philanthropist.