Margaret Tredwell Redfield Smith
(1825 – 1909)
Margaret was an educated woman and was a graduate of the Troy Female Seminary, later known as the Emma Willard School (after its famous headmistress). She shared with her husband (William Smith – a Railroad executive) a keen interest in natural history, and particularly in collecting shells, minerals and botanical specimens. Together, they were able to amass a serious collection of shells during their lifetimes. She was an accomplished writer and authored several highly acclaimed research papers, often based on historical themes, including a paper on the history of Iroquois Wampum, as well as a general history of Onondaga County, both of which are still regularly referenced at the Onondaga Historical Association. She was a correspondent and a frequent contributor to Syracuse's Herald newspaper and a prolific poet. One of her more historically-pertinent and eloquent quotes: "We cannot bind scattered rose leaves together, nor bring the bloom again to the faded flower, but 'life's lost blossoms' often leave an after glow and fragrance so rare, that memory, by some subtle power, retains them so firmly, that we almost believe that then is now. After all, we cannot separate the past from the present, so closely does the tide of what has been and what is, mingle together."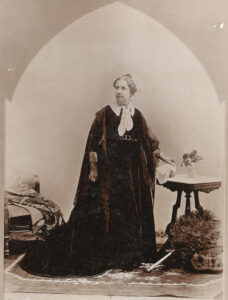 Margaret came from a prominent family, which owed much of its local status to her father, Louis Hamilton Redfield, who was a pioneer printer and publisher of "The Onondaga Register" here in Onondaga County. Her mother, Ann Maria Tredwell Redfield was also quite famous in her own right as an educator and author. Ann also graduated from the Troy seminary and Emma Willard was a frequent quest in the Redfield home. Margaret most likely inherited her interest in natural history from her mother, as Ann was the author of a widely disseminated book titled "Zoological Science or Nature in Living Forms." The book, which was universally praised by educators and scientists throughout the United States and Canada, included a very impressively thorough "Chart of the Animal Kingdom." Ann eventually served as the Preceptress of Onondaga Hollow, which would make her the early 19th century equivalent of Superintendent of Schools for Onondaga County. She was also the organizer of the Syracuse Historical Society, the President of which was nationally acclaimed preacher and abolitionist Reverend Samuel May.
Margaret was old enough to remember many milestones of the early history of our community and, consequently, she became one of our early unofficial historians, following in the footsteps of her mother, and was one of the charter members of OHA. Upon the death of her husband, William, she inherited just a portion of his sizable estate, which left her comfortably situated, and she became a regular donor to local charities. He also left her the life use of their mansion on Irving Avenue, though the house could not be made a part of her estate because, according to the terms of his Will, upon her death, it went to her his residuary legatees. As a witness to the ravages of the Civil War, she was one of the earliest and largest contributors to the establishment of the Soldiers & Sailors monument in Clinton Square (which was originally intended as a monument to our Civil War soldiers).
Despite the enormous accomplishments of the women in her family, the bulk of her fortune, however, (about $30,000, which is today's equivalent of approximately $730,000), which she gave during her lifetime, went to the erection of a memorial to her father, Louis Redfield, in the form of a statue, which still stands today in Forman Park. As a result of this memorial, Margaret's estate, at the time of her death, consisted of only about $5,000 (about $122,000 in today's dollars) worth of personal property: mostly her shell collection and the contents of her home. The shells went to the Syracuse School District and the contents were divided between relatives, with her rare book collection and a good deal of her exceptional antique mahogany furniture going to OHA.