Submitted by Gregg Tripoli, OHA
Mary Elizabeth Wieting Johnson
(1843 – 1947)
Mary's interests were centered on the advancement of education and drama. She was a lecturer, author, and poet and she was married to Dr. John Wieting who built the Wieting Block on the southern edge of Clinton Square, the largest portion of which was the Wieting Opera House – a theater that played host to many lecturers and theater productions of the day. During Dr. Wieting's lifetime, the Wieting Block burned down twice (in 1856 & 1881) and was twice rebuilt by him.
Upon his death in 1887, his will, which included bequests to many local charities, was declared completely invalid due to tangled legal logistics and Mary inherited his entire estate.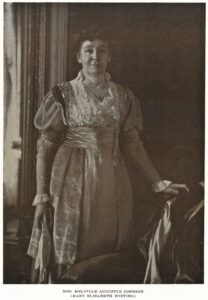 Mary became a businesswoman by retaining and managing the Wieting Block. In the early 1890's she took a chance on the 16 year-old Sam Shubert and hired him as the treasurer of the theater providing him with the financial experience and the theater-world connections that helped him eventually launch the largest theatrical empire this world has ever known. In 1896, the theater burned down for a 3rd time, and Mary re-built it again, making it bigger and better, turning it into the number one theater in Syracuse. Her business acumen served her well and she greatly enhanced the fortune that John, though somewhat unintentionally, left her.
In 1900, she married Melville Augustus Johnson and moved out of state. Mr. Johnson preceded her in death by several years, at which point she moved back to Syracuse. Upon her death in 1927, Mary made good on the declared invalid bequests of her first husband, John, thus honoring his wishes to provide $5,000 (about $62,000 in today's dollars) each to St. Joseph's Hospital, OHA and the Syracuse Home Association, as well as his desire to provide funds for the addition to the Onondaga Orphans' Home in the form of a hospital to benefit women and children under the age of 18. Mary allotted $100,000-125,000 for this project, naming it the Wieting-Johnson Memorial Hospital. She also added a $5,000 bequest to Crouse Hospital and an additional $50,000 to John's original Syracuse Home bequest in order to expand the building. The residue of her estate went to Syracuse University, as per John's original wishes.
So, basically, though she had been living away from Syracuse for over 20 years and though the bulk of Mary's estate was earned by her in the 40 years since John's death, her entire estate, with the exception of the additional $5,000 to Crouse Hospital, went to her husband's designated beneficiaries. It is entirely possible, of course that these were her choice of beneficiaries as well. And, in the end, they are all worthy causes, so does it really matter who chose them? After all – it was Mary's money to give and it was certainly well given.
An interesting note about Mary's will was her specific instruction that the fire insurance on all her real estate be kept up to date until it was sold.