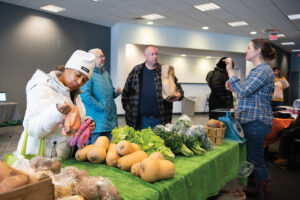 On a Sunday in January, Karen Harrison walked across the street from her home in Syracuse's Valley neighborhood to the area's first winter market. "I bought greens and onions, potatoes and garlic," she said. "They're good and fresh. I just went over there with my bags and filled them up and paid and went back home. It was that easy."
The winter market, organized by Food Access Healthy Neighborhoods Now (FAHNN), runs the second and fourth Saturday of the month through April at an empty store in the Valley Plaza Shopping Center, 4141 S. Salina St.
Rhonda Vesey started the organization in May 2021 to provide food access to a Syracuse neighborhood with no grocery store. Since Tops closed its Valley Plaza store in 2018, neighbors lost easy access to fresh produce, dairy and meat. Transportation barriers make it difficult for many in a neighborhood with high levels of poverty and health inequity to travel to buy groceries.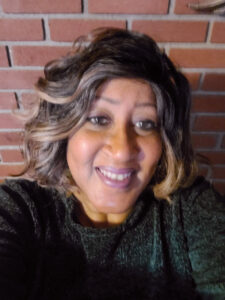 In July 2022, Audrey Haskell, the vice chair of Food Access Healthy Neighborhoods Now, Vesey, and other volunteers started a weekly outdoor summer market at Valley Plaza. Operating through October, it featured food grown at nearby Brady Farm and from other local vendors. Vesey also booked musical entertainment and invited representatives from Upstate Medical University Healthy Hearts Program to do blood pressure checks, help connect people with primary care physicians and educate them about smoke and carbon monoxide detectors.
"It takes a lot to get a healthy neighborhood," Vesey said. "Food is the start of that. You have to have a strong mind and a healthy body to get a job so you can feed your kids."
The summer market was so successful, FAHNN wanted to operate a market in winter, too. A grant from our Anti-Poverty Initiative Fund supported hiring Vesey as outreach manager and coordinator for the winter market.
The winter market is "constantly busy," Vesey said, with customers buying produce, baked goods and eggs from local vendors and wholesale sellers. Brady Faith Center, which sponsors FAHNN, often sells out of the fruits and vegetables grown at its Brady Farm.
Harrison, a longtime supporter of Brady Farm, tries to eat locally and eat seasonally. "If most of my greens and salad items are grown locally that's valuable," she said.
The winter market shares that vision. "You can walk two or three blocks with your bag and pick up onions and potatoes," she said. "You aren't picking up chips and cookies. It helps you be more intentional about being healthy."
The winter market also provides social benefits. "A bunch of my neighbors were there," Harrison said. "You're seeing people from the community and saying 'hello.'"
Vesey is thrilled that's happening. "We're weaving a positive web into the community," she said. "We want to bring folks out long enough to feel good about their community."
The 2023 summer market is expected to begin in June and continue until October.