To celebrate 8/28 Day, we asked some of our Black Equity & Excellence Fund recipients this question: "What was your organization able to achieve/build because of the grant from the Black Equity & Excellence Fund?"
Here's what Karin Franklin-King of the Paul Robeson Performing Arts Company had to say:
The Paul Robeson Performing Arts Company (PRPAC) is approaching its 40th year of creating performance opportunities for minority artists of all ages in the Syracuse/CNY area.  Through the performing arts platform we serve as an "artistic and cultural outlet for Black and Brown artists to develop and display their skills and talents that educate, create dialogue and ignite change."  Currently, we are in an exciting period of revitalization and during this heightened awareness of BLM (Black Lives Matter), our work is especially important in giving voice to artists who can tell their story through their own lens. To provide a season of quality productions takes time, talent and treasure. Through the generous support of the Community Foundation's Black Equity & Excellence Fund we produced, in April and July, two high-quality, main stage productions that were recorded and streamed. These virtual productions, Kill Move Paradise (KMP) and Comb Your Hair -or You'll Look Like a Slave (CYH) included Zoom talkbacks involving cast, crew, audience members, and general public in community feedback.
Kill Move Paradise focused on Black men and youth whose lives were unjustly taken by law enforcement. See this Syracuse.com article about the production.
Comb Your Hair focused on the theme of Black women's hair and how it's challenged by American society standards. See this Syracuse.com article about the production.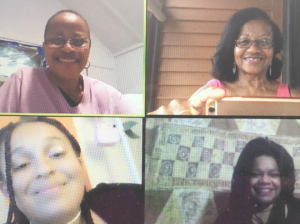 CYH production included a unique partnership with the Community Folk Art Center's use of venue/Black Box Theatre and exhibit, "As Told by Black Women."  Partnership momentum continued with ArtRage Gallery hosting an in-person viewing, especially for folks who don't stream (an audience that is untapped).
In addition to productions and partnerships, PRPAC's revitalization efforts to "Preserve and Grow" included a new, interactive website (which attracted support and encouragement from many who know PRPAC from their time on stage, backstage or in the audience); and we've added new board member (and are in the process of recruiting more).
This initiative is just getting started. To preserve our presence and legacy of filling a void in Black theatre experience, a lot of work is still ahead of us. This includes efforts to grow and sustain the organization via involvement of today's "youth movement" in theatre management, building capacity and creating a progressive environment that will allow us to learn from each other.
For more information about 8/28 Day, click HERE.