The Early Childhood Alliance (ECA) has an important mission: to build the brains of our youngest residents, babies. Children from birth to age 5 pass many developmental milestones at a rapid pace. The ECA works to prioritize the education of these children during a critical stage of their growth.
Two of the ECA's evidence-based, nationally-developed programs – ParentChild+ and Help Me Grow – recently received a 3-year $600,000 grant from The Sisters of Saint Francis. This long-term funding will create stability for the implementation and evaluation of both programs.
"The Community Foundation encouraged the ECA to write a grant that we then submitted on their behalf," Frank Ridzi, vice president of community investment, remarked. "We're always looking for new and innovative ways to bring in additional funding to serve our community."
During the pandemic, the ECA continued its services and even enhanced its offerings, despite county budget cuts and other challenges. They had to get creative to continue some of their services, such as offering virtual infant screening. Ridzi stated, "The ECA has been powering forward and even thriving this last year during COVID. They've been hiring and doing more 'ages and stages' screenings, because early childhood waits for no one. You just don't get those years back."
The ECA's broader mission is to ensure that all children are healthy, thriving and ready to succeed in school and life. It focuses on providing all families of young children parenting support by building knowledge, skills, confidence and the resources needed to raise their children in healthy and nurturing environments. This substantial grant will help to ensure that children flourish.
"Very rarely do you find a three-year grant opportunity, so this funding is incredibly impactful for us to move these initiatives forward," stated Laurie Black, director of the ECA. "We're using the Sisters of St. Francis dollars to strengthen and build out these two cornerstone, evidence-based programs, which will strengthen the web of infrastructure support for children and families in Onondaga County."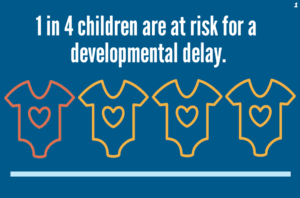 According to the American Academy of Pediatrics, an estimated 15% of children in the United States have at least one developmental delay, yet less than one-fifth of those children receive early intervention services before three years of age.
Help Me Grow (HMG) sets out to make sure that all children aged zero to five years old are receiving screenings over the course of their development. Where needed, it provides parents with referrals to community-based supports so that they can address milestone delays early.
The national HMG website states: "A network of community resources works like a power grid. When the grid functions well, families can plug in to an organized flow of resources and easily access the ones they need. Help Me Grow strengthens the grid by maintaining a current directory of available services and connecting service providers to each other to create an interconnected system."
Because the brain rapidly develops during the first five years of life, Laurie and her HMG team feel a sense of urgency to find children who need developmental help. Their referrals have come from childcare providers, grandparents and parents. The United Way's 211 outreach phone number is often a source of referrals and is accessible to anyone who needs services. The best source of referrals is from pediatricians, and yet, very few in Syracuse and surrounding suburbs knew about HMG until recently.
"With as many as 1 in 4 children at risk for developmental delay, universal early childhood screening provides an opportunity to identify delays early and intervene during the most critical period of development. Considering that standard developmental screenings may not reveal indications of autism spectrum disorder (ASD) nor social-emotional concerns, it is important to conduct ASD-specific and social-emotional screenings as well. However, approximately 40% of pediatricians do not consistently complete recommended developmental screenings."


—

American Academy of Pediatrics
To help with this, the ECA is using some of the funds from its new grant to employ Phyllis Koester, a pediatric resource specialist, to better connect with pediatricians. Since her hiring in August, Koester has nurtured relationships with doctors, resulting in 90 referrals.
Summer Merrick, HMG director, has been actively working to make sure that parents and children are getting the services they require. If a family is going through a tough time, having trouble paying bills or not getting access to transportation, they work to connect them with the "power grid" of resources.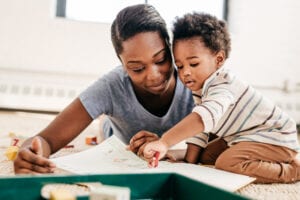 Once Koester receives a referral, she calls to check in with the family. Merrick notes, "Sometimes a patient might be hesitant to tell their doctor what they need, because it's their doctor and they want to put on a brave face. But with Phyllis's kind personality, patients know that this woman is going to take care of them. Phyllis will meet their needs and never judge them or their situation."
Koester recently received a referral in which the family needed help with diapers, formula and children's clothing. She called the family and helped with those items and asked if they needed any other assistance. "I asked 'What else can we do to help you?' And within fifteen minutes of talking to the family, I had information that they needed help with transportation to doctor's appointments and finding more information about the WIC program."
Merrick's "Books, Balls & Blocks" events teach families about social-emotional development, milestones and screenings. When participants sign up, they receive a tote filled with age-appropriate developmental toys. Merrick and her team are launching a new, exciting approach soon. To encourage parents to attend well-child pediatric visits, even during a pandemic, Merrick and Koester will be delivering developmental toys to the pediatricians' offices. The toys have a QR code tag which, when scanned, will easily help parents give their information and needs. Collecting data will help HMG know where to focus their energies and how to help the most families.
"Care coordination requires consistent follow-up until you really hear how or if needs were resolved for a family," commented Black. "When a pediatric practice refers families to Help Me Grow, they can be assured that their needs are being met, even between well-child visits."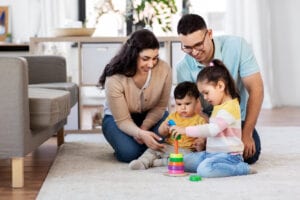 ParentChild+ (PC+), a collaboration between the ECA and Catholic Charities, matches an early-learning specialist with families to ensure children are ready to enter kindergarten. Each family receives a minimum of 46 home/virtual visits per cycle for a total of 92 visits. Families build a library of books and educational toys, along with curricular guide sheets containing tips for verbal interaction, quality conversation and skill development. Black noted that most of the activities are easy to implement and cost very little. Hopping around the living room from pillow to pillow is just one example of an activity that helps develop gross motor skills.
The local PC+ staff, which includes three bilingual early learning specialists who offer Spanish and Arabic translation, has been very creative in working around COVID-19 limitations. Ondalee Kelley, program director, said that PC+ is now using hand puppets to add excitement to their virtual programming. They also hosted a Pajama Day, inviting parents, children and learning specialists to wear their pajamas and bring a stuffed animal to the meeting!
These crucial visits are offered more frequently in the early months when the brain is rapidly developing. When a developmental milestone is missed, it may go unnoticed and develop into further trouble down the line. Children who enter school behind are likely to remain behind, making them more likely to drop out of school in later years.
With continued funding, consistency, attention and a network of resources, the ECA is building an intentional framework to help families throughout Onondaga County. Raising early childhood development up as a priority requires the will of a community. Black added thoughtfully, "To quote Frederick Douglass, 'It is easier to build strong children than to repair broken men.'"