As a boy, Jeff Bastable would sit with his grandma on Sunday mornings while she told him stories about her family's life – tales of traveling by ship across the ocean to their roots in England, experiencing life early in the growth of the Syracuse area, being part of the daily hustle-bustle along Bastable Block.
Years later, Jeff took one of his first trips to the Onondaga Historical Association (OHA), prompted by a desire to fill in the gaps in what he knew of his family's history in Central New York.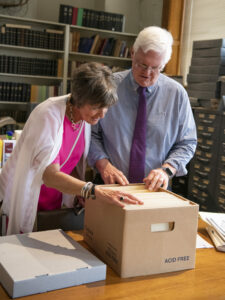 Inspired by the strength and determination of their ancestors to build for the future, Jeff and Susan Bastable are proud and grateful for the community-building contributions their families made and wish to honor and preserve that history for the generations to come. Both descended from entrepreneurs. Susan's grandfather started the essential oil food flavoring industry in Elmira. Jeff's family's namesake real estate development venture was the Bastable Block in Syracuse, which once sat on the site of the current State Tower Building. The Bastable Block included a post office, pharmacy, Syracuse University's first college of law, and the iconic Bastable Shakespeare Theater that provided the start for the famous Shubert brothers' movie theater empire. Jeff still feels connected to what the building represented and how it contributed to a sense of community in the heart of downtown Syracuse.
Rather than taking a page from the family history books, Jeff and Susan are adding pages and artifacts to the archives at OHA from their own personal collection, which had previously been stored at their home. Among the items from the Bastables' collection are a key to the Bastable building, glass apothecary jars from the pharmacy, a steamer trunk that accompanied Jeff's ancestors across the Atlantic, photographs and records of family military service, and many paper files to supplement the newspapers and written historical accounts already housed at OHA.
"We're known for our things and our collections at OHA, but it's really about people," continued Moore. "These are the permanent things of people who lived and walked our streets and built our city and our reputation. Family collections are the connective tissue of the items that are here in our museum. They're the storytellers, the people who preserved these items in their own homes and now are sharing them with future generations to use and understand and learn from."
It is precisely this story of how their family history intersects with the community's history that the Bastables wish to preserve. Using their donor-advised fund at the Community Foundation, Jeff and Susan are supporting OHA's work to create a permanent home for their family collection and they hope to inspire other families to do the same. "I want it to connect to others," said Jeff. "There are so many other families and individuals who, through circumstance or sacrifice, shaped the evolution of our community."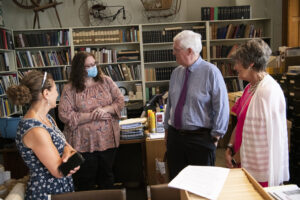 History, service and education are the common values at the heart of what drives Susan and Jeff in their giving and their vision to preserve the community's untold stories. For them, education provides a foundation for learning and embracing multiple perspectives, service brings us all together, and history informs our past, present and future. Of her children, grandchildren and future Central New Yorkers, Susan said, "I think knowing their history will give them a sense of pride and a sense of belonging and a sense of placement that they might not otherwise have had and that might have been lost."
"A lot of people throw things away today and don't think twice about it," said Susan. "They may be throwing things away that would've told that story and fit the pieces together like a puzzle." Together, the Bastable Family Fund and the Bastable Family Collection at OHA will ensure that story lives on.