Community Voices: This blog series amplifies voices to give power to those most affected by the issues in our community and to the organizations, groups and individuals working hard to make a difference.
---
Written by: Ashley Quimby-Simoni, program manager at the Erie Canalway National Heritage Corridor
Erie Canalway National Heritage Corridor received a $9,493 grant from the Central New York Community Foundation to support adaptive recreation along the Erie Canalway Trail and participation in the Canalway Challenge by people of all abilities. The results to date are promising and we look forward to seeing more people enjoy all that the Canalway Corridor offers.
The Canalway Challenge invites people to trace history while tracking miles walking, running, cycling, or paddling on the NYS Canal System and Canalway Trail. The free program includes a range of mileage options so that people at all fitness levels can participate. More than 800 challenges have been created so far, which pledge to complete nearly 130,000 miles by 2024.
As part of the Canalway Challenge, we partnered with the Fitness Inclusion Network at SUNY Upstate's Golisano Center for Special Needs to launch a new Virtual 1st Mile program for people with mobility challenges in the greater Syracuse area. The program offers a series of 15 Peloton-style adaptive cycling videos filmed on the Erie Canalway Trail and Onondaga Creekwalk in Onondaga County.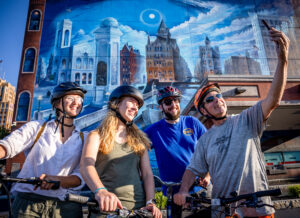 Thanks to the Community Foundation grant, Erie Canalway has also been able to use the Canalway Challenge and 1st Mile programs to grow awareness of outdoor adaptive recreation opportunities along the trail in Central New York. The grant funding has enabled us to recognize Canalway Challenge participants of all abilities who complete their challenge. In addition, we are supporting a TRAID on the Trails event on July 21st and September 16th, hosted by the Joe Family Foundation, which invite people of all abilities to try out adaptive equipment on the Canalway Trail.
We can't thank the Community Foundation enough for its generous support of adaptive recreation along the Canalway Trail in Central New York and beyond.
Get Involved, Get Active! To sign up for the Canalway Challenge or 1st Mile Challenge, please visit …