Ever-changing technology and the advancement of visual mediums have redefined how we consume news and entertainment. Creators are spearheading new innovations every day that they incorporate into podcasts, social media, television and more. For Bishop Ronald Dewberry, this new wave of creativity laid the groundwork for the creation of a new opportunity to fill a gap in Central New York. 
As a young man, Bishop Dewberry was enamored by communication, specifically journalism. This love for the field stayed with him through his younger years, but showed him the increasingly prevalent absence of Black creators in the media space. As a result of the pandemic, advancements in media have been fast-tracked to new heights. If there was ever a time to build something new and creative, Bishop Dewberry knew now was his chance.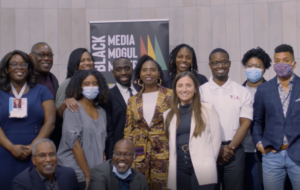 "It's well documented that Syracuse struggles with one of the highest poverty rates in the country," Bishop Dewberry said. "We believe digital media entrepreneurship to be one of the most accessible types of business ownership — at its simplest, media owners can create wealth with a phone, internet connection, and social media presence." 
Bishop Dewberry partnered with Sean Branagan and Daniela Molta of the S.I Newhouse School of Public Communications to create a diverse communications training program for the Black community in Syracuse through his nonprofit, Center of Hope International (CHI). The program, named Black Media Mogul Maker, sports a holistic approach to communications that prepares future Black entrepreneurs for multimedia content creation. For 10 weeks, 25 individuals receive mentorship and training to help turn their media aspirations into a reality. 
Black Media Mogul Maker not only emphasizes the entrepreneurial spirit, but realizes the importance of culture in communication. Dewberry cited the successful radio station POWER620, which was recently sold to the radio juggernaut, iHeart Radio. Immensely successful, it reached the ears of the Black community in Syracuse, and provided a unique sense of community for its listeners in a time when there were few mediums for the Black community to tell stories and connect. 
The program also provides an opportunity for entrepreneurs to collaborate and build their network, which Molta explained is key to being successful in the field. Upon completion of the program, participants pitch their business venture, competing for additional seed funding for their business.
"Our goal is to provide a roadmap, skills, and community to foster Black media ownership in Syracuse," Molta said. "In effect, bridging the digital divide, creating generational wealth and diversifying the stories that shape culture."
With the help of a grant from our Black Equity & Excellence Fund, the CHI was able to hire new staff and speakers to help accommodate the growing demand. Funding was also used to purchase marketing materials and other necessary technology equipment so participants can experience the latest innovations in technology firsthand. 
CHI promotes solutions for empowerment, self-sufficiency and sustainability to promote economic and entrepreneurial development, financial literacy, and business acumen for diversity and inclusion. Black Media Mogul Maker has become a successful extension of this mission and the interest in the program has grown significantly. 
"The digital revolution has undeniably changed the way we live and interact but it's still lacking representation of Black voices," said Bishop Dewberry. "This program is providing the tools for these entrepreneurs to make an impact on the media stories that the community sees."