Within the walls of Jamesville Correctional Facility, inmates participating in the Family Literacy Project are happily reading books to their children and helping them with learning activities they made themselves.
Based on successful national models, the program at Jamesville Correctional is aimed at increasing literacy rates of children with incarcerated parents. It is a joint effort between OCM-BOCES and Onondaga County Public Library and is designed to teach inmates ways to help improve their children's reading skills and engage in their schooling.
Amy Thorna, literacy coordinator at the Onondaga County Public Library, believes strides can be made in alleviating poverty by first addressing education and literacy.
"Our community has pretty low literacy levels," she said. "It goes hand-in-hand with the poverty that exists."
Thorna leads one class each week, teaching attendees the "how-tos" of reading and interacting with their children and the importance of engaging in their education. Six inmates participate in each seven-week session, alternating between male and female groups. A $10,000 grant from the Community Foundation provided seed money to the project, which will continue for as long as funding is available.
The program is modeled after, and expands upon, the American Library Association's Every Child Ready to Read (ECRR) program. ECRR concentrates on talking, reading, singing, playing and writing as key skills needed to develop a child's early success.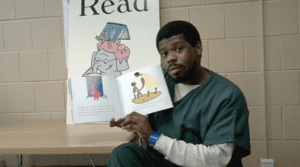 The inmates create fun activities for their children, based on one of the five ECRR skills, to send home to them. They also choose three children's books: one to read on the recording of a video sent home, one to read to their child when they visit on the project's final day and one to take home to their child when they are released.
All participating inmates have reported wanting to spend more time reading to their children and taking them to the library when they get home. After the inmates are released, they will later receive a postcard reminding them of the goals they stated for themselves and their children at the beginning of the project.
"We say to the inmates, 'In 10 years or 15 years where do you see your kids? What do you see them doing?'" explained Thorna. "The parents of course want their child to be successful, so we remind them that this is how they can start them down the road to success now."