The canines at Helping Hounds Dog Rescue are always happy to wag their tails for the volunteers who stop by to rub their bellies and take them for a romp in the grass. Little do they know how many fans they really have. Last November, Helping Hounds received a $5,000 prize grant by winning our Giving Tuesday CNY social media competition.
We conducted the competition as a way to celebrate the local nonprofits of Central New York on Giving Tuesday. Giving Tuesday is a national movement falling on the Tuesday after Thanksgiving that is designed to bring exposure to charitable giving during a consumer-driven season.
The public was asked to vote for their favorite local nonprofit organization, via Facebook and Twitter, using the unique hashtag #GivingTuesdayCNY. This encouraged Central New York organizations to rally their fans for votes in unique ways – from email and social media campaigns to video stories and individual face-to-face outreach. By the end of the 24-hour voting period, one thing was clear – the Central New York public loves this region's charitable causes! More than 200 nonprofits were nominated and more than 5,000 votes were counted.
Helping Hounds Dog Rescue, an organization that works to find permanent homes for rescue dogs, was thrilled to hear that it won the competition with more than 500 votes, many of which came from previous adopters and its large volunteer base.
"We were so surprised when we found out we won!" said Kathy Gilmour, Helping Hounds executive director. "Throughout the day, there were so many votes coming in over the networks that we couldn't tell if we were doing well, so we were all the more excited when we heard."
The organization provides emotional, medical, behavioral, and physical support to neglected, abused or homeless dogs so that they can be adopted into loving, permanent homes. Helping Hounds entered the contest with the hope of using the money to further its mission and give its dogs the happily-ever–after ending they deserve.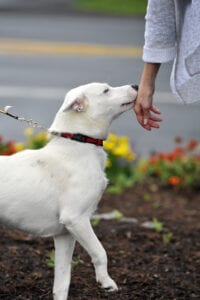 "The money helped give us a cushion so that when we have a dog that faces unexpected health issues, or needs additional training, we can get it proper medical care and attention," said Gilmour. "It has just been a blessing to have that money."
Now entering its fifth year of operation, Helping Hounds has worked with shelters from all over the country to find homes for more than 4,000 dogs that have come from as close as Dewitt and as far as Texas. By monitoring the current dogs available for adoption in other Central New York shelters, the Rescue carefully selects its dogs to avoid bringing in similar, competing breeds.
Helping Hounds is primarily a volunteer-run rescue, with more than 250 active volunteers. While the staff is busy helping adopters find the perfect fit for their family and coordinating with its many foster homes, the volunteers visit daily to make sure that the dogs stay happy and healthy by feeding, grooming and walking them.
"We could not do what we do without the support of volunteers and adopters coming in and 'rescuing' us every day." said Gilmour. "Our adopters are our heroes; they're the ones who give these dogs a second chance."