When students enter the Hillside Work-Scholarship Connection (HW-SC) program, Regional Executive Director Wayne O'Connor says many dream of becoming NBA players or cosmetologists.
Over the course of the program, O'Connor hears students' aspirations evolve; they say journalist, photographer or researcher, and one little girl even dreams of becoming a goat farmer.
These new passions are ignited when HW-SC students explore the city of Syracuse and beyond on 'learning expeditions.'
Learning expeditions put students into the field – whether that's a zoo, a state park or a goat farm. O'Connor arranges interviews with professionals and gives students the resources needed to document their expedition, record observations and take photographs and video.
These expeditions are especially important because many HW-SC students have never set foot outside the city of Syracuse. There are more than 1,000 HW-SC students in nine Syracuse City School District schools, and 99 percent face poverty and other life challenges. Students come to the program with evidence based risk factors, including poor attendance, behavior and standardized test scores.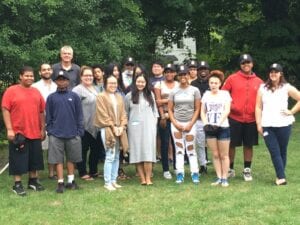 In the past few years, the graduation rate in the Syracuse City School District hovered between 48 and 50 percent. In the last five years, 97 percent of HW-SC students have graduated.
"It should be common sense but so often it doesn't happen in education," O'Connor said.  "You have to engage young people.  When they're interviewing someone, listening, and synthesizing that information, it works at a higher level than just doing a worksheet."
The learning expeditions culminate in a presentation. On demonstration days, O'Connor, his senior staff, parents, and Syracuse community members are audience to the students' investigations and findings.
Learning demonstrations have included a fashion show exploring urban art and design, zoology: pros and cons of animals in captivity, and a look at gun violence and its impact on the community.
The learning expeditions are funded in part by a grant from Community Foundation. The grant has allowed HW-SC to expand the expeditions to more students, taking place during shorter school breaks as well as the summer.
In O'Connor's ten years with HW-SC, the operation has grown from 2 ½ staff members and 33 students to 60+ staff members and about 1,100 students. HW-SC also has 42 youth advocates who undergo a training program and function as a student support system.
"We have high expectations," O'Connor said. "We give a lot of love, affection and support. We've learned to work on Saturdays, and we've learned to work late."
HW-SC students aged 16 and up are also encouraged to seek part-time employment. If students meet guidelines for attendance, academics and attitude, they can participate in a 25-hour employment training academy. Students learn about financial literacy and how to write resumes and interview. HW-SC helps arrange an interview, and then students are on their own.
"Every one of our kids wants a part-time job. That myth stereotype that these are lazy kids – these are city thugs and stuff is nonsense. They want to work," O'Connor said.
Wegmans employs more than 100 HW-SC students. Students are also employed at Tops Friendly Markets, the Rosamond Gifford Zoo, Rite Aid and Burger King.
HW-SC students who are employed also do better in school, O'Connor said. They learn how to interact with people and how to be reliable and responsible; those are life skills they can carry over, he added.
Hillside also utilized our grant to host a special learning expedition for a group of middle school students. The HW-SC's backyard currently sits empty with only a playscape that the students are too old to use. O'Connor told the students he wanted an outside area that HW-SC could enjoy, and they took it from there.
Students partnered up with a Syracuse University design class to conceptualize the project. Then they presented the new HW-SC Legacy Park, including a scale model of the landscape with tables and reading areas. They created a budget, shopped online and are currently in the process of turning their ideas into a tangible, lasting monument.