As 80 Veterans are coming in for a landing at the Syracuse Hancock International Airport, crowds of people are gathered outside the gate. Some hold decorative posters or handmade signs with personal messages, while others grasp American flags. But they all bear one visible characteristic: A smile from ear to ear as they await the arrival of the heroes returning home from Honor Flight Syracuse Mission 14.
Honor Flight Syracuse is dedicated to honoring and recognizing veterans from any era. Twice a year veterans and their guardians travel to Washington, D.C., free of charge, to visit the memorials dedicated to their service and sacrifice. Currently priority is given to veterans from World War II and Korean War, and veterans from any era with a terminal illness. Thanks to a group of nurses led by Kara Keyes of the Le Moyne College of Nursing, the health and safety team ensures veterans with health or physical impairments are able to make the trip.
When they arrive home from the day-long missions, their dearest friends, family members, and community members are waiting to welcome them home and mark the final leg of their journey with a show of gratitude.
"It is amazing how psychologically uplifting this kind of honor is for veterans," said Susan Bastable, Honor Flight Syracuse volunteer. "It's affirmation of the special and important roles they hold in history and the sacrifices they have made on behalf of our civilization."
The organization relies heavily on hundreds of volunteers and supporters who donate more than just their time. Each flight costs upwards of $95,000 and food and travel costs continue to rise. In 2014, Honor Flight received a Community Foundation grant to purchase health and safety equipment, transport chairs, and handheld radios for use during the missions.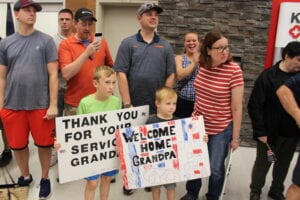 Since its first flight in 2012, Honor Flight Syracuse has taken 982 veterans to D.C. With no plans to slow down, Jeff Bastable, Director of Development/Philanthropy, wanted to do more to ensure the longevity of the organization. To sustain Honor Flight for the long-term, Bastable connected with us to establish the Honor Flight Network Agency Fund. The fund will provide continuous support and funding for Honor Flight operations and allow the board to focus on the succession of the organization.
"The Agency Fund will help to ensure that this country's veterans will continue to be honored the way they should be for years to come," said Bastable. "We're here to stay and we want to make sure our Vets know that too."
Bastable is hopeful that younger community members and veterans will become involved by serving as members of the organization's internal committees and board. Honor Flight continues to collaborate with other local nonprofit organizations to increase and expand those efforts.
For more information on Honor Flight Syracuse or to sign up a veteran you know for a future mission, visit honorflightsyracuse.org.