A U.S. Trust study found that people want their financial advisors to ask them about charitable giving. In fact, a third of clients surveyed think the topic of charitable giving should be raised in the very first meeting. Yet fewer than half feel their advisors are good at discussing personal or charitable goals with them.
Wondering how to start a conversation about charitable giving with your clients? Or looking to refresh your approach? As part of an ongoing series, we're asking some of Central New York's most experienced professional advisors how they 'pop the question' about charitable giving to their clients.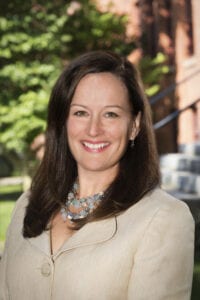 Hear from Caragh Fahy, CFP®, President & Owner of Madison Financial Planning Group on how she 'pops the question.'
Why do you think it is important to bring up the topic of charitable giving?
Most clients are charitably inclined but haven't had anyone take a proactive approach to discussing how to effectively incorporate charitable giving into their entire financial picture. With our holistic financial planning approach, it is a natural fit for discussion.
How do you learn about your client's charitable interests?
When we start working with a client, one of the first things we review is their tax return. If, in the past, we saw a charity listed on their schedule, we would ask about it. Otherwise we ask, generally speaking, if they give to certain charities.
At what point(s) in your process do you bring up/revisit the topic of charitable giving?
Very early on so we can understand how it might fit within their overall financial picture. Building a financial plan is like putting together a puzzle and charitable giving is an important piece to many of our clients.
What questions or ideas about charitable giving do you find resonate the most with your clients?
In light of the new tax law changes, clients are wrestling with what it means for their charitable giving. Showing them there are still tax smart ways to give, like using their required minimum distributions (for those over the age of 70 ½), has been valuable to them.
How has your approach changed over the years?
We have focused more on lifetime giving and not just legacy planning. It is great to see clients get excited about their donations at work while they are still alive to see them!
Is there anything else you want to add about helping your clients with their charitable planning?
Knowing that they will be okay under lots of scenarios, makes the conversation of charitable planning so much easier and fun to have with clients. Great charitable intentions stem from that financial planning work. If they don't know that they will be okay, it is hard for them to really think about anything or anyone else.