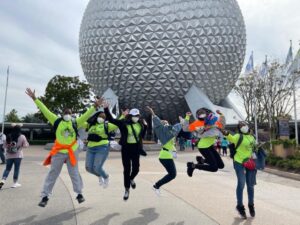 "Every child should have the opportunity to visit Disney World," Betty Stark stated to her husband just a few years ago. It seemed like a passing thought, but Ted and Betty kept thinking about her remark and decided that they should try to make their dream a reality. Not knowing where to start, they called a friend who recommended they contact the Community Foundation. Together, the Starks and Community Foundation staff designed a donor-advised fund that would help put their hopes in motion by supporting the Dunbar Association.
Dunbar's Executive Director, Karla Green, was elated when she got the call from Betty. "Karla informed us that many students in Dunbar's community were experiencing difficult economic times and racial inequality, in addition to hardships resulting from the global pandemic. When we spoke on the phone, Karla said it perfectly: 'These children need to see hope.'"
"Our greatest natural resource is the minds of our children." —Walt Disney
Both Karla and the Starks wanted to reward children who exemplified the qualities of kindness and character. Neither academics nor athletics were a factor. "Our intent from the beginning was to capture those students who might fall between the cracks, those not noted for their academic, athletic or musical talents," Betty noted. "We hoped that Disney World would inspire them as they started making life decisions." Anonymously, via Zoom, Ted and Betty watched the children's faces as Karla announced the five winning students.
The trip was announced to the children at the end of their summer program in 2021, but because of the pandemic, the trip was delayed until January 2022. Karla, who loves Disney and travels often, was a wizard with the budget. The Starks' plan was to send one or two kids to Disney with a chaperone, but with Karla's handiwork she managed to stretch the funds and offer the trip to five students.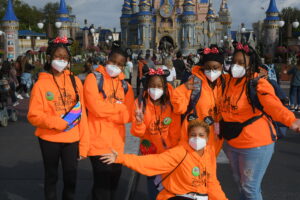 The budget covered an eight-day adventure including nonstop airfare, Disney World tickets, meals, local transportation, insurance, spending money for the kids, personal protective equipment, and a beautiful resort rental home with a pool, theatre room, game room and water park access. The Dunbar Association also offered some funding for one additional chaperone, colorful matching shirts for the kids and staff and Google Chromebooks…because the students had homework to do!
Karla's expert planning was rewarded in a few other magical ways as well. Known as "Friendly Frida" to her own children, Karla noted that she has the gift of gab. When the kids and chaperones boarded their Jet Blue flight, which for many of the students was their first airplane trip, the crew decided to upgrade all of them to first-class seats! Later, at the car rental company, Karla charmed the sales agent with the beautiful story of the kids and the Starks. The attendant stopped her and said, "Say no more." With special discounts, she and the children had a safe car to be shuttled to and from the park and still managed to stay within the budget.
Unexpected Outcomes
Due to Karla's keen planning, the chaperones were able to enjoy their time with the kids and create space for the unexpected. As Betty and Ted believed, this trip had a deeper impact than just visiting a theme park. "We had the energy and time to focus on those moments that we didn't anticipate," recalled Karla. "If the logistical pieces are in place, then you can free up a piece of your brain to really pay attention to those moments that are truly unforgettable and that I believe will be life-changing for our students."
Every night the kids and chaperones had a "family meeting" in which they discussed their emotions and things for which they were grateful. As the week progressed, the kids discussed how they could create something like Disney World. They decided that they want to innovate and create, just like Walt. Many of them decided that college is a must if you want to be like Disney. The Dunbar Association team has, therefore, decided to teach a class on Walt Disney's innovation and creativity during their annual summer program.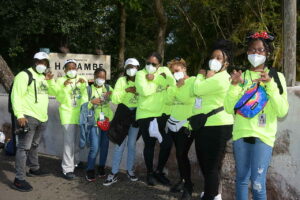 "Our dream now is to make Dunbar Disney Dreams an annual event for many years to come," Betty said. "Truly, we have experienced few events in life that have been so rewarding. We know it will affect so many more lives and welcome everyone to experience the joy of this dream." The Dunbar Disney Dreams Fund accepts donations to continue the Starks' dream of sending kids to Disney every year.
"In my work, I try to reach and speak to innocence, showing it the fun and joy of living; showing it that laughter is healthy; showing it that the human species, although happily ridiculous at times, is still reaching for the stars." —Walt Disney