Building Homes and Hope, for Veterans
After eight years of duty in the Middle East, Iraq, and Afghanistan, Felica Plunkett completed her service to the United States Navy but soon found that she and her three children had no home to live in.
"Although at the time it felt like a tragedy, today I am grateful that it happened," she said.
Syracuse Habitat for Humanity achieved a milestone this spring by becoming the first Habitat affiliate in New York State to complete a Veteran Build project – a new home for Felica. Veterans Build allows veterans to transfer the value of their HUD vouchers – which are awarded by the Veteran's Affairs Homeless Veterans Program to disabled, vulnerable or women veterans to obtain housing – towards Habitat for Humanity homeownership. It was also Habitat Syracuse that posed the question if HUD vouchers could be used toward homeownership instead of rentals.
"We got the vouchers approved in a matter of weeks which was a miracle!" said Suzanne Williams, executive director of Syracuse Habitat for Humanity. "As a result, Veterans all over the country are using their vouchers to purchase homes."
In spite of challenging odds, Syracuse Habitat for Humanity called on the community to fill the funding gap to complete Felica's house. The project had already raised funds, but setbacks such as a recent burglary in the unfinished home prompted a need for more support. A small grant from the Community Foundation went a long way towards helping Habitat not only bridge the gap between fundraising and project completion but reach out to worthy veterans whose service is deserving of such a gesture.
This initiative, aimed at assisting U.S. Military Veterans and their families, has generated conversation in the community. The Veteran Build program has been featured as a fundraiser for a canned food drive at Syracuse University's football games. It is also a shining model for other Habitat for Humanity chapters.
As one of the first to utilize this beneficial program, Felicia not only made it out of a homeless shelter but through the help of Syracuse Habitat for Humanity, made it into a new home — as an owner. Felicia called the opportunity once in a lifetime.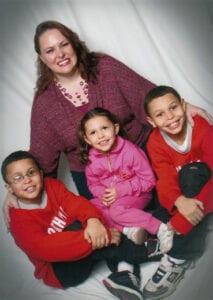 "If there is anyone out there that is a homeless disabled veteran, I have a message for you: Don't give up hope!" she said. "Please know that there is a light at the end of the tunnel and there are resources out there for you to have the same kind of happy ending that Syracuse Habitat has made possible for me and my family."