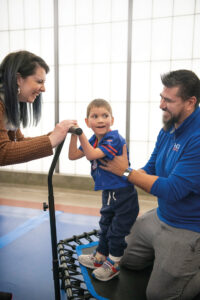 The first time 4-year-old Andy Cortes tried out a power wheelchair at the Golisano Center for Special Needs-AccessCNY Sensory Movement Exploration Center, his mother left the facility in tears. "It's the first time I felt hope," Nicole Cortes said. "I saw him use a chair and realized that he has some independence. We want him to be as normal as possible within his environment."
Andy is the second child of Nicole, an occupational therapist, and Nick Cortes, a physical therapist. The Syracuse couple quickly realized Andy was not gaining weight or developing strength and movement the way his sister, Evelyn, had four years earlier.
At age 3, he was diagnosed with athetoid cerebral palsy, a condition characterized by atypical, involuntary movement. "His arms, his legs are extra tight," Andy's mother said. "He has a hard time holding up his body and his neck."
Key to building Andy's physical independence is using technology to help him interact, said Dr. Nienke Dosa, developmental pediatrician at the Golisano Center for Special Needs, SUNY Upstate Medical University.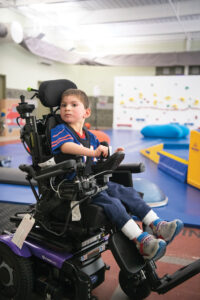 Children can use a joystick to control a wheelchair, for example. "He should be able to control where he goes," said Dr. Dosa, who treats Andy and is AccessCNY's medical director. "Giving children the ability to move by technology is important in early brain development. It sets the scaffolding for further learning."
A Community Grant to the Upstate Foundation for the construction of the center was used to renovate the former gym at AccessCNY and purchase equipment that promotes physical activity and wellness for children with intellectual and developmental disabilities.
"Having a space like this exposes the wider community to adaptive sports and inclusive recreation," said Dr. Dosa. "Fostering this engagement both improves life for the child who uses the assistive technology and provides parents, families and community members with purpose and appreciation of multiple forms of ability."
Dr. Dosa explained that the center has equipment and activities that cannot be found elsewhere in the community. This includes pediatric power wheelchairs, partial weight support systems, sensory swings, vibration plates, a climbing wall and a sensory pathway with an interactive "village" that features an Erie Canal lock and the Adirondacks forest.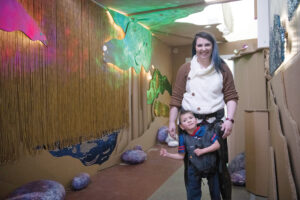 "It's freeing to be in this space," she said. "Parents love to see their children here. It links the medical piece and therapy piece with community resources to continue wellness and recreation. Like a village, this is a place that brings people together."
On a recent visit, Andy whizzed around on a toddler-size power wheelchair, climbed the rock wall and touched nearly everything along the sensory pathway.
"He gets to decide where he wants to go," Nick Cortes said. "In just two sessions, he's moving around and maneuvering through things. It gives us huge hope that there is a great future for him."
TO DATE, THE UPSTATE FOUNDATION HAS SUCCESSFULLY PILOTED FOUR GROUP THERAPY PROGRAMS AT THE CENTER AND HOSTED A WELL- ATTENDED DAYLONG REGIONAL WORKSHOP FOR CHILDREN WHO ARE DEAF-BLIND.