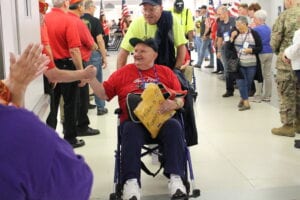 Honor Flight Returns from 14th Mission
In October, we helped welcome home the Veterans of Honor Flight's 14th mission as it arrived at the Syracuse Hancock International Airport. Honor Flight Syracuse helps Greater Syracuse area veterans obtain a flight or bus trip to visit the war memorials in Washington D.C. The Veterans and their guardians were greeted with a warm welcome of bagpipers, friends and neighbors who gathered to mark the final leg of their journey with a show of gratitude. The organization recently created a nonprofit endowment fund at the Community Foundation to ensure perpetual support of its operations.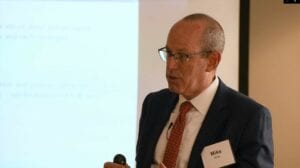 Investment Insights with Mike Miller
On July 30, Mike Miller from Colonial Consulting, our investment consultant of 25 years, joined donors and advisors at the Community Foundation to present both historical insights and a strategic view of our current investments.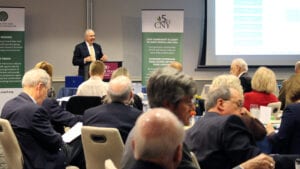 Continuing Education Event
On October 8, the Community Foundation hosted an appreciation event for professional advisors. R. Hugh Magill, vice chairman of the Northern Trust Company, provided an overview of changing generational attributes, marital practices and family structures, and their implications for planning, trust design and family collaboration and governance.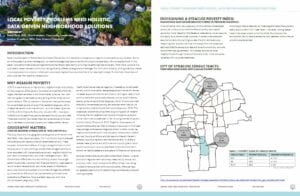 Poverty Index Paper
We recently released a whitepaper that examines how the use of precise measurements within a poverty index, which compares each census tract along multiple dimensions that reinforce one another, can drive meaningful change through holistic yet customized neighborhood solutions. You can view the paper at: cnyvitals.org/povertyindex.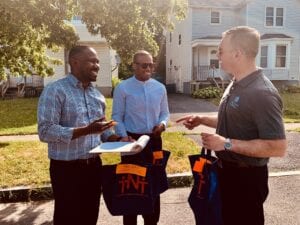 Get the Lead Out Lead Canvassing
This summer, our staff joined Tomorrow's Neighborhoods Today (TNT) on Syracuse's Southside to conduct door-to-door canvassing. This was part of the organization's effort to educate residents on the dangers of lead poisoning and facilitate lead testing and remediation in at-risk homes. You can read more about TNT's efforts at: Leadsafecny.org