Unfamiliar transportation, customs, cultures and languages are a few of the common barriers refugees face upon relocating to a new country. Human services organizations provide basic support in these areas, but some are facing another hurdle that makes it even more difficult to navigate through those adjustments: being deaf.
"Community accessibility remains a challenge for many refugees even after they learn our language, but we noticed it was a bigger struggle for the ones with hearing loss," said Debra Chaiken, president of Aurora of Central New York. "It's hard enough to learn a new language as it is, but it becomes a bigger challenge with those circumstances."
According to Hearing Loss Association of America, approximately 20% of Americans aged 18 and over report some trouble hearing. Staff at Aurora noticed that the number of refugees with hearing loss that they were serving had steadily increased over the past few years. The organization, which offers resources and support for those with hearing and/or vision loss, realized that a staff member solely focused on deaf interpreting would make a world of difference.
With the help of a Community Foundation grant, Aurora hired Monu Chhetri last year to assume a part-time position while training to acquire the skills needed to become a certified deaf interpreter and a job readiness coach for refugees who are deaf or hard of hearing.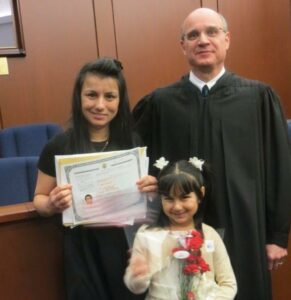 "After my mother and I immigrated to Syracuse from a Nepalese refugee camp, I began to learn American Sign Language," said Chhetri. "I noticed other refugees were isolated from engaging in the community and wanted to do what I could to help them adjust to their new lives."
Being deaf herself, Chhetri learned Nepalese Sign Language in the Nepalese refugee camp she grew up in and later spent three years in a special program for deaf children in India where she learned Indian Sign Language and English. Upon relocating to Syracuse, Monu and the other refugees would gather regularly in her home where they practiced American Sign Language and American culture.
Chhetri's experience working with other refugees and her extensive year-long training at Aurora, made her great fit for the deaf interpreter position. She now teaches weekly sign language classes and provides job training through the organization's pre-vocational and job placement programs. Many of the refugees with hearing impairments have struggled with access to community resources and service providers due to language and cultural barriers. Aurora now delivers a total of 14,900 hours of interpreting services yearly, and visitors can utilize community resources more easily with the help of Chhetri.
"Our organization has been strengthened since adding Chhetri to our staff and she has truly changed the lives of so many refugees," said Chaiken. "We are proud to support these individuals in learning the appropriate language, culture, resources and eventually job readiness skills to live with independence and opportunity."
Monu plans to continue her impactful work, which now holds new meaning to her after recently receiving her American Citizenship. "I am truly touched by all the love and support I've received from my family, friends and co-workers," said Monu. "My work has been so rewarding. Being a Citizen of the United States is something I am so thankful for, and I can't wait to help others achieve the same thing."