A U.S. Trust study found that people want their financial advisors to ask them about charitable giving. In fact, a third of clients surveyed think the topic of charitable giving should be raised in the very first meeting. Yet fewer than half feel their advisors are good at discussing personal or charitable goals with them.
Wondering how to start a conversation about charitable giving with your clients? Or looking to refresh your approach? As part of an ongoing series, we're asking some of Central New York's most experienced professional advisors how they 'pop the question' about charitable giving to their clients.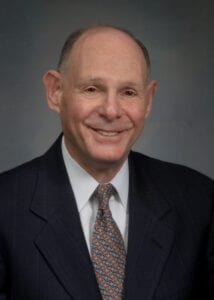 Hear from Steve Jacobs, President of Bishops Brook, Inc. and former Community Foundation board member on how he 'pops the question.' 
Why do you think it is important to bring up the topic of charitable giving?
I've been fortunate and feel that the financial success I've had has come from being in business in this community. Because of this, my wife, Elaine, and I feel it's important that we give back, and I try to encourage my good friends and business contacts to do likewise.
How do you learn about your friends' charitable interests?
I mostly have these conversations with people I have known for years. From many conversations over the years, I have a feeling how important our community is to them. If I'm not sure, I ask how they feel. Every time I have a breakfast or lunch with someone, I'm always interested in the community activities in which they, and their spouses, are involved. Through questions, I try to assess their interest in charitable giving, find what's important to them and where they are in their "philanthropic journey." I call it this because I've seen how my own feelings and thoughts about giving have changed over the years.
At what point(s) in your process do you bring up/revisit the topic of charitable giving? How do you discuss giving with them?
It is different for every person, but when I sense the time is right, I discuss giving with them. I like to start by pointing out that unlike, say Naples FL, Syracuse does not get an inflow of wealth. It flows away from our community for a couple reasons. Many of our wealthy individuals move to the south because of the weather or often for tax reasons and they take their money with them, often forgetting where it was made. Naturally, they then make their charitable gifts where they've moved, not back in Syracuse. In addition, as people die and their children no longer live here, wealth transfers out of Central New York. Sometimes this discussion helps them to understand the need to support the community that supported them…sometimes not. But often, my friends have a pride and love for our area, as we do.
I tell them what Elaine and I are doing in regards to giving, about why we're doing it, about our legacy plan, and how the Community Foundation has helped facilitate what we do now and will in the future. I learned this from Bob Derrenbacker, who told me how he inspires others to give by relating his own plans. I also discuss how using a donor-advised fund aids in not only simplifying and consolidating giving, but also in tax planning and savings. This resonates with them, especially with the recent change in the tax laws, making it important to group deductions.
How has your approach changed over the years?
My thinking has certainly changed over the years. I have learned from my wife, Elaine, and by being on the board of the Community Foundation. We want to provide help to people who are underserved in our community and give individuals the opportunity to be "all they can be." And, we want to especially help children and those who may never have opportunities but have basic needs because of their circumstances not of their own choice. In the past, we gave to locally-based, national organizations. Now we focus more on where we can have a real impact on organizations that with good stewardship provide "on the ground" assistance in our community.