In honor of Black History Month, we asked a few of our Black Equity & Excellence Fund Advisory Council members to reflect on who has inspired them to be their best selves – making Black history right here in CNY. Here's what Cal Corriders said:
As the manager of Neighborhood Economic Development for Centerstate CEO, I have a front-row seat to witness the making of Black history in Central New York. I have chosen three of my Centerstate CEO colleagues who inspire me daily: Dr. Juhanna Rogers, Vice President of Racial Equity & Social Impact, Marcus Webb, Economic Inclusion Fellow, and Laiza Semidey, Syracuse Surge Workforce Manager.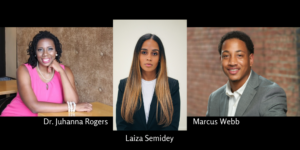 Juhanna, Laiza and Marcus continuously work to create equitable & inclusive personal and professional spaces for all within the Central New York community. They touch various areas of society and work tirelessly to make sure everyone in our community eats. Although young in their careers, they understand the historical injustices of the country and pave the way for others.
Finally, what really inspires me about each of them, is seeing their passion, intelligence, leadership and resiliency, giving me energy and inspiration daily.
Cal Corriders
Black Equity & Excellence Fund Advisory Council Member
Neighborhood Economic Development Manager, Centerstate CEO
Click HERE for more information on the Black Equity & Excellence Fund.